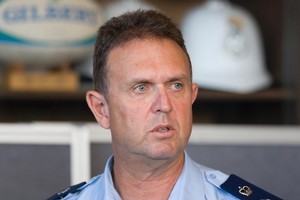 Police Commissioner Howard Broad today praised the work of Superintendent Gary Knowles, the police officer who led the mission to rescue 29 miners trapped underground after an explosion at the Pike River mine last Friday.
Mr Knowles, the Tasman district police commander, broke the news to the public today that there had been a second, unsurvivable, explosion in the mine this afternoon.
It was his most tragic moment as a policeman, he said.
Mr Knowles has come in for fierce criticism from those who believed rescuers should have been allowed to enter the mine.
But Mr Broad today said Mr Knowles had led "an extremely professional and thoroughly detailed operation".
"Superintendant Gary Knowles has had an extraordinarily difficult role, one of the most challenging police roles that I've seen encountered in my entire career," he told CloseUp.
Conditions had made it impossible for a rescue mission to be mounted, he said.
"The operation, I thought, was always up against the challenge of the conditions in the mine. Superintendant Knowles was advised by experts of world class standing...
"So what he was presenting to families, what he was presenting to the community, to the nation, was the product of a huge amount of highly expert advice.
"His job was to communicate that clearly and simply. I think he did a good job. He was very resilient in his response to that and he has my utmost admiration."
Mr Broad slammed Australian journalist Ean Higgins, from The Australian, who had asked what a "local country cop" was doing leading the rescue operation.
"That was disgraceful, in my view," Mr Broad told.
"Here was Superintendant Gary Knowles, a very successful and accomplished police officer of over 30 years' experience, experienced in a wide range of police disciplines, he's been in command roles for a long period of time and he's in charge of a district that covers a third of the South Island.
"A very successful police officer, leading a rescue operation in which there was hope, a slim hope, of rescuing the miners trapped below, to be subjected to that sort of personal abuse, I thought was disgraceful."
The Police Federation of Australia had asked Mr Broad to pass on the full support of Australian police, and told him they regretted the comments of "one foolish journalist".
The anxiety and frustration of the families with loved ones down the mine was "heart-wrenching", and the thoughts of the police were with them, Mr Broad said in a statement.
He was on his way to Greymouth to compliment the police team and ensure it received the support it needed.
- NZPA