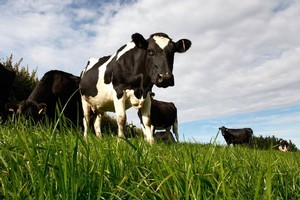 A group of uninvited bovine visitors gave a Wellington couple a surprise when they awoke to find the beasts nibbling grass in their garden.
Marcus Anselm and his wife were astonished to find five cows wandering around their Karori garden about 6am on Saturday.
His wife had woken him after hearing noises, he said.
"I didn't notice at all but my wife was convinced she could hear something chewing ... We were a bit surprised and didn't know what to do."
A neighbour alerted police and five patrol cars turned up but officers were unable to move the stubborn cattle, he said.
However, police were able to contact the owner of the curious cows, a nearby farmer, who got the cattle under control after cornering them mid-morning.
Mr Anselm, who is English, said he had no idea how the cattle escaped but was amused by the situation - and quipped that it saved him mowing the lawn for another week.
"[However] they certainly could have done a better job of eating the grass," he said.
The cattle lived in a field near his home in Montgomery Ave.
"I'll be looking to get the farmer's number in case of further cow-related emergencies," he said.
- NZPA