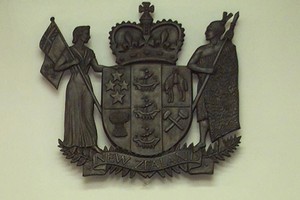 Bystanders heard a loud crack when Matthew Heagney's head made contact with the ground after allegedly being ejected from a Blenheim bar by a bouncer, a crown prosecutor told a jury today.
The bar's former owner Kevin Robert King went on trial in the High Court at Wellington for the manslaughter of 24-year-old Mr Heagney.
Justice Jillian Mallon told the jury, of nine women and three men, "feelings of sympathy when a young man has died are quite natural".
However, she urged them to make sure they focused on the evidence of the case rather than emotion.
Outlining the case, crown prosecutor Mark O'Donoghue said King used "unreasonable and excessive force" against Mr Heagney, when "forcibly removing" him from Shapeshifters bar in the early hours of Sunday, August 23, 2009.
He said King, "in tandem" with another bouncer, punched Mr Heagney and placed him in a tight headlock before dropping him on the footpath outside the bar - "causing him to strike the back of his head and that's what killed him".
Mr O'Donoghue said the cause of death was blunt force trauma, causing a catastrophic head injury that no surgeon or neurosurgeon could hope to reverse.
"The die was cast... it was no accident. It was the deliberate act of an angry man," he told the jury.
He acknowledged Mr Heagney had been drinking that night, after holding a party at his house earlier to watch the rugby.
However, he was not "falling down drunk".
The court heard Mr Heagney had gone into town, after cleaning up after his party, to meet up with his girlfriend with whom he had been having problems.
He had sneaked into Shapeshifters after the bar refused him entry around 2.15am because the bar was closed to new admissions.
After speaking with his girlfriend in the toilets he then tried to leave the bar, Mr O'Donoghue said.
However, as he got to the front door, a bouncer "accosted him" and King also stepped in to help.
The pair carried Mr Heagney to the front door, while a female bouncer lifted one of his legs.
Mr O'Donoghue said Mr Heagney was then either "thrown or dropped".
The scene was witnessed by a number of people who described Mr Heagney as "limp, unconscious or floppy" before he was released.
Witness heard a loud crack as the back of his head hit the footpath.
Mr Heagney was taken to Blenheim's Wairau Hospital where he died at 6.35am that day, surrounded by family members.
The defence, outlining a brief summary of its case, said King was not obliged to prove anything but rather it was up to the Crown to prove the charge beyond reasonable doubt.
Bryony Millar said Mr Heagney's death was a tragedy but urged the jury to focus instead on the conduct of King and others during the incident.
"Don't be tempted to work backwards and think because someone died the actions of Mr King were unreasonable," she said.
King had come to the aid of another bouncer and was acting in self-defence, she said.
The defence would ask the jury to consider Mr Heagney's emotional state that night and the reasons why King had to restrain him, she said.
The trial is expected to last two weeks.
- NZPA