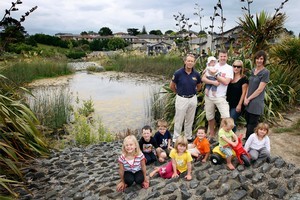 A community's long fight for a safe neighbourhood prompted a law which requires the Auckland Council to consider fencing stormwater ponds.
For Beachlands residents, the law has resulted in news that a council fence will soon enclose three deep ponds on public land near their homes.
Pine Harbour Parade resident John Huxley said that four years ago he pleaded with the Manukau City Council for barriers to prevent children wandering into ponds of up to 3m deep.
But the council said safety was the parents' responsibility.
Mr Huxley said residents offered free labour to build a fence in October last year, after the body of 2-year-old Aisling Symes was found in a Waitakere stormwater drain.
Manukau Mayor Len Brown's letter to them said the council was justified in maintaining that safety fencing was not required.
Vegetation screened the ponds from view and a child would have to wade through shrubs and rushes to reach the water.
Mr Huxley said: "The idea that vegetation was supposed to stop access by a child was nonsense, so I turned to the local MP as a last-ditch attempt."
Hunua MP Paul Hutchison visited the Pine Harbour Estate.
"I was astounded to see how easy it would be for a child to fall down the deep slopes and into the pond," he said
Dr Hutchison appealed to Mr Brown on behalf of families with small children.
Residents pointed out the council was enforcing the fencing of private swimming pools yet was ignoring water hazards on public land.
In May, Dr Hutchison saw a solution to the problem when Parliament considered the Auckland Law Reforms Bill to form the Super City.
He introduced an amendment that added an obligation for the new council to "have regard for public safety due to its structures, particularly child safety in high-density, built-up areas".
He sent Mr Brown a copy of the new law in June, saying: "I would grateful if your council would move expeditiously to ensure appropriate safety fencing is put in place at the Beachlands site."
In September, the council approved a $60,000 fence around the ponds, which Mr Brown said would happen "as soon as possible".