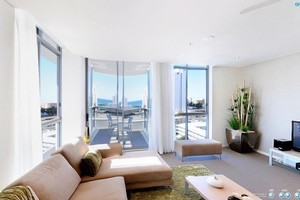 A Reporoa woman's Christmas has come early after she won a luxurious $2.1 million beachfront home on Australia's Gold Coast and $50,000 in gold bullion.
But despite numerous attempts by the lottery organisers to contact her, the prize remains unclaimed.
The mystery woman bought a $25 raffle ticket book in the Returned & Services League Art Union competition and won the top prize in its November 17 draw - a $2.1 million beachfront home on the Hope Island Residential Resort.
The fully furnished luxury retreat is 20 minutes north of Surfers Paradise and is surrounded by subtropical rainforests.
The Reporoa woman will also take home more than $50,000 in gold.
But Ian Clark, marketing manager of the Queensland RSL, said organisers had still not heard from her.
"The answering machine has two names, her name and another name, so we can't leave a message because of security reasons," he said.
"We got an engaged signal a couple of times but the 18 other times the phone just rang out.
"It's a wonder she hasn't checked the tickets or our website. She may be away but we don't know because we can't contact her."
Mr Clark said the woman might be screening her phone calls and, seeing an international phone number, could be wary of foreign scam-artists.
Ian Reynolds, who owns the Woolshed Tavern in Reporoa, said the town was abuzz over the weekend.
"There's a lot of excitement at the news but no, we don't know who it is," he said.
"Funnily enough, my missus was away over the weekend so I gave her a call and asked her if she'd bought any tickets. Unfortunately she hadn't."
Taupo RSA manager Karen Katene said the RSL lotteries were well known among RSA members in New Zealand.
She had bought a ticket herself and her heart fluttered when she read on the internet yesterday the big winner was a local.
"I was kind of hoping when I saw it it was going to be a Nukuhou-Taupo winner because I take them myself and I was thinking 'oh my God it's so close'.
"But no, we haven't had anyone come in jumping up and down saying 'I won'."
Mr Clark said most people who enter the draws are in their late 40s or early 50s and about 12,000 New Zealanders enter at least one of their 10 draws each year.
He said if a prize was not claimed within a year it would go into a trust.
"We have to show every endeavour for a full year to a point but we may have to call the local police."
"We will send a letter by registered mail.
"We have allowed for time differences but it is quite unusual that we can't contact this person."
The RSL is a charitable organisation established to raise funds for Australia's returned servicemen, women and their families.
The second prize went to a person in Christchurch, who wasted no time in collecting their $12,713 winnings.