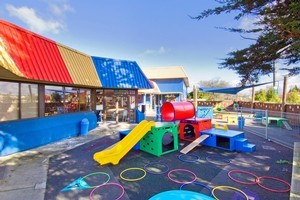 One of the country's biggest early childcare providers is to hike its fees - and families using popular centres based in affluent areas will face the biggest increase.
Kidicorp says it has no choice but to increase prices by up to $30 a week as the Government has slashed nearly $300 million from its budget in the early childhood sector.
Funding at present covers 100 per cent qualified teachers but by February this will be reduced to cover 80 per cent.
Kidicorp is estimated to be among 2000 centres affected by the cuts.
Owner Wayne Wright says $4.29m will be shaved off its current $60m Government funding for between 8000 and 10,000 kids in 106 centres around the country. Centres include Top Kids, Edu Kids, Early Years, Montessori, Kids to Five and First Steps.
Wright said up to 20 centres - in affluent and popular areas where parents do not want a slip in services or teacher ratios - will increase their fees by up to $25 a week. One centre will face a hike of $30.
Up to 30 centres, which tend to be not full and are in less affluent areas, would have no increase. The remainder would face increases of $12.50.
Meetings will be held in the coming weeks to inform parents of any changes and how the sums have been reached.
Wright said the increases will only cover about $1m of the shortfall. The extra $3m-plus loss will be managed by creating efficiencies, which could include looking at how long some centres were open.
If parents were not prepared to pay the increases then services could suffer, he said.
Wright said upset families should write to their local MP.
New Zealand Childcare Association chief executive Nancy Bell said a survey of 199 centres showed about 72 per cent signalled they would raise fees. Half would increase by up to $1 an hour more and the other half would charge more than $1 an hour more.
Parents had held protest marches, and Bell predicted more parent outrage in the future. She said some parents could absorb extra costs, but feared some children might miss out on early education.
THE NUMBERS
* 2000: The number of centres affected by cuts
* $300 million: The amount cut by Government
* $30: Top end increase