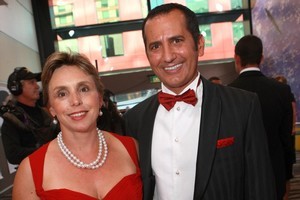 New Zealand's highest-paid executive, Australian George Frazis, knows that when you command a salary package of $5.59 million you need to roll your sleeves up.
Westpac's CEO has gone one better - he's whipped his shirt off.
Mr Frazis, 46, a father of four, stunned staff at the bank's recent Christmas party when he discarded his T-shirt to unveil a large Superman- style red W across his mid-riff.
"The people I was standing with our jaws just dropped," a witness told the Weekend Herald. "We thought, Oh. My. God."
The "big reveal" at the finale of a dance routine performed by some of the bank's executive team featured some moves where the boss of one of New Zealand's big four banks "grabbed his package" Michael Jackson-style.
"It was just mad," said the source (who added that the CEO was in good nick. "He's been working out.")
So mad that the party at Rhubarb Lane was closed down by noise control officers about 10.30pm.
Mr Frazis has brought a colourful and free-spending style to the sober image of Queen St banking. This, the Herald was told, has raised eyebrows, especially during a recession.
An analyst, who did not want to be named, said he was surprised by accounts he had heard of "unusual excesses" he says seemed "very 1980s".
The analyst said Mr Frazis appeared to be another in a line of Australians here for a three-year stint before going on to a bigger job back home. "New Zealand is part of their flight path to greatness. That is an issue for New Zealand," he said.
At the Christmas party Mr Frazis is said to have preferred his own wine rather than that provided to general staff who were required to pay $20 a head to attend.
A former employee told of an executive function at which Mr Frazis, a wine buff, vetoed the Moet that had been ordered for more expensive Veuve Clicquot.
A Westpac spokesman declined on Mr Frazis' behalf a request for an interview but offered to "fact check" the story on the basis the arrangement not be reported. After the Herald rejected those terms Westpac provided some comment.
A nominal charge for the Christmas function was not new for Westpac, nor uncommon. The function was heavily subsidised and included food, drink, entertainment and transport home.
There was a small amount of additional wine for all the dancers, including Mr Frazis and the executive team, "as a thank you for all the hours they had put in over weeks and months [practising their routines]".
"The shirt? Look, George is a keen dancer. It was part of the performance and it was well received by staff judging by the applause and cheers on the night.
"He's a modern young CEO who is passionate about the business and doing good things for the company, as evidenced by our recent results which are a vast improvement on the previous year. He's committed to Westpac New Zealand and he has no plans to move on."
Mr Frazis' total remuneration was revealed in the bank's annual report this week as A$4,386,308 for the year to September 30.
Converted to New Zealand dollars, it puts him ahead of both Telecom chief executive Paul Reynolds and Fonterra boss Andrew Ferrier but leaves him well short of Australia's highest-paid banker, Kiwi and former ASB head Sir Ralph Norris, who has a take-home salary of A$3.1 million and potential A$13 million bonus.
Mr Frazis lives in a rented mansion in Paritai Drive, a choice which dashed bank hopes - according to an insider - that the new chief executive might solve a problem by taking over the Congreve mansion vacated by his predecessor, fellow Australian Brad Cooper.
The mansion became a burden for Westpac which was obliged by its contract with Mr Cooper to buy the property when he was transferred to Sydney to be the parent company's chief transformation officer.
Mr Frazis joined Westpac New Zealand in March 2009 from a group executive role at National Australia Bank. Before that, he was a senior executive in Commonwealth Bank of Australia's institutional banking division and has been a partner with the Boston Consulting Group.
He's the eldest of seven children of Greek aquaculture immigrants brought to Darwin by the Northern Territory government to help develop the pearl industry.
A former staffer said Mr Frazis regaled colleagues with tales of growing up barefooted and living through Cyclone Tracy which devastated Darwin in 1974.
He described Mr Frazis as an enigma who was demanding about the trappings of power, particular about dress - insisting male staff wore ties as a mark of professionalism - was social and fun when comfortable and liked being the centre of attention and was renowned for starting his day with twin double-shot macchiatos.
The young Frazis' interests lay beyond the Northern Territory and the pearl industry - in engineering, mathematics and problem-solving.
While with the Royal Australian Air Force he attended Perth's Curtin University earning a degree in electronic engineering and later a master of business administration degree (Australian Graduate School/Wharton School of the University of Pennsylvania).
It may be during his time in Perth that he met his wife, Amanda, a member of the Kailis pearl family in Western Australia. A lawyer, Mrs Frazis is on Simpson Grierson's commercial litigation team.
In an article after his appointment, Mr Frazis, who chairs the Sir Peter Blake Trust, said the Westpac job appealed because "it gives you all the levers to really be successful and make sure the organisation is successful".
The current environment required the bank to "get back to basics" but he had "absolutely no doubt that Westpac New Zealand has the potential to be the leading bank in New Zealand."
Westpac is second, holding 19.4 per cent of banking assets compared to the ANZ's 32 per cent (held through its ownership of both the ANZ and National banks).
Frazis prefers
* Paritai Drive.
* Veuve Clicquot.
* Double-shot macchiatos.
* Sports cars (work car: Nissan 300ZX).