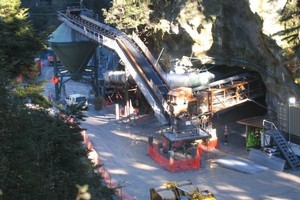 The explosion at the Pike River Coal mine on the West Coast today generated intense interest from overseas media from Britain to the Middle East to the United States.
TV media from Al Jazeera in Qatar to the BBC in London and CNN have given lead coverage to the incident, where 27 miners were tonight still unaccounted for.
In India, where two big steel companies take most of Pike River's coal, media covered a drop in the share price of Gujarat NRE Coke Ltd, which holds a minority stake in the New Zealand company.
The incident also evoked interest from major newspapers such as the Wall Street Journal, The Telegraph from London.
It drew more attention in the big city daily newspapers in Australia, where the stock exchange was still open when the news broke, and a broker said the Pike River price was "smacked": shares lost as much as 15 per cent of their value, and they were placed on a trading halt with the share price down A10c, or 14 per cent, at A61c.
The Malaysian Star newspapers and the Jerusalem Post also covered the event, among many others.
- NZPA