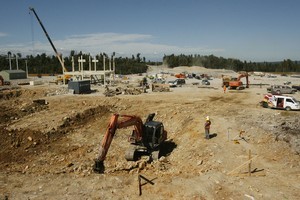 Methane gas has long been identified as a potential problem for the Pike River Coal mine, as rescuers scramble to find up to 27 missing miners following the explosion at the West Coast this afternoon.
Mines are notoriously susceptible to explosions.
The cause of today's blast has not yet been identified, but Pike River Coal chief executive Peter Whittall - who oversaw much of the development of the company's mine 46km northeast of Greymouth - started the week promoting the mine's prospects to shareholders who went to the company's annual meeting at the mine site.
Over the past year workers had to push their underground roadways through a zone of rock and out into the coal seam: The company spent $4m hiring extra engineers and miners, and bringing in a big reconditioned Sandvik ABM20 single-pass continuous mining machine.
The company had recently completed commissioning the first of its two main underground fans that had increased ventilation by around 30 per cent.
Mr Whittall said the mine's "quite complex geological environment" would always "throw up challenges".
Unusually, the 2.3km mine shaft slopes uphill near the top of the Paparoa Range and features two seams: the Brunner coal measures with just over 58.5 million tonnes of recoverable coal, and the deeper Paparoa measures with an additional eight million tonnes.
The 5.5m -wide, 4.5m high tunnel had to pass through the Hawera fault - a 60m-wide zone of fractured rock with a risk of methane gas infiltration sufficient to require flameproof mining equipment to be used.
"Once the tunnel passes through the Hawera fault, expectations of methane (albeit minimal and within approved safe operating limits) associated with the fault zone and the coal measures to the west will require that flameproof, specialist equipment be used," former chief executive Gordon Ward said in June 2008.
Pike River has estimated that "fugitive" methane gas emissions from the mine are likely to be approximately 1.4 million tonnes over the mine life.
The tunnellers struck other trouble with a 108m deep, 4m wide ventilation shaft in February 2009 when fractured rock dropped out of the bottom third of the shaft, and the company had to spend $7m to reinforce the shaft. It had to raise $45m to pay for this and the absence of targeted coal production while the reconstruction was carried out over eight months.
In full coal production, the mine planned for high pressure water cannons to be used with the mining machines to sluice 2000 tonnes of crushed coal each day to the pit bottom so that it could be started on its export journey as a piped slurry.
- NZPA