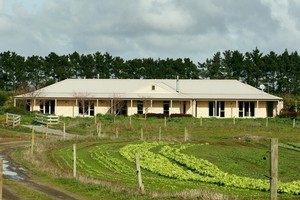 A $2.5 million lifestyle estate owned by an alleged drug money launderer is still listed for sale - to the surprise of police who seized the property.
Jiuliang Wei, 26, is the sole director of Dreamland Finance and charged with laundering $1.9 million for an alleged drug syndicate distributing methamphetamine nationwide. Wei left for China before charges could be laid and is now on the run from police.
The charges against Wei and his finance manager Xiang Zhang were laid after police Operation Acacia, which netted $5.5 million worth of methamphetamine, about $750,000 worth of ContacNT - the main ingredient in the drug - a cache of 21 firearms and $400,000 in cash.
Police also seized a 15ha property in rural Franklin, south of Auckland, owned by Wei.
But the lifestyle block is still for sale - to the surprise of police.
The 2-year-old home, with four bedrooms and three living areas, is listed for more than $2.5 million by real estate firm Barfoot & Thompson.
Real estate agent Colin Chen said the Saddleton Rd lifestyle block had been on the market since January.
He knew it had since been seized by police and could not be sold.
Asked why the listing had not been removed, Mr Chen said he had not received any instructions from the vendor, Wei.
"That's why we haven't taken it down."
Detective Inspector Steve Wood, officer in charge of Operation Acacia, said the property could not be sold.
"But it's foolish to still have it listed and we'll certainly be making a phone call to have it taken down, if we haven't already."
At the time of the arrests in July, Mr Wood described the $6 million bust of the Asian organised crime syndicate importing and distributing P as one of the most significant in New Zealand.
He said police believed Wei's finance firm had assisted the drug ring by transferring large amounts of drug money through various accounts and moving it internationally to disguise its origin.