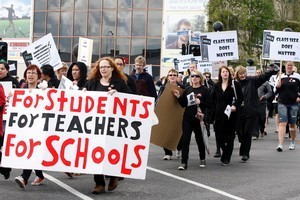 There are warnings parents are growing increasingly intolerant of the ongoing teachers' negotiations which are "taking on the hallmarks of a circus".
Secondary Principals Association president Patrick Walsh has hit out at both the Ministry of Education and secondary teachers, saying the prospect of starting 2011 with more industrial actions is "highly unpalatable".
The Post Primary Teachers Association is meeting to discuss more intensified industrial action for the new year after negotiations broke down last week for the third time since May.
Teachers cancelled Year 10 strikes for last Thursday, believing the ministry was to make an offer on reducing class sizes. The offer came nowhere near what was expected.
In a regular newsletter sent out to secondary principals this week, Mr Walsh said the last-minute cancellation of those strikes was a "complete debacle".
"It was in my view symptomatic of five months of failed negotiations between the Government and PPTA."
The strikes were called off late on Wednesday, well after schools had finished for the day, making it hard for teachers to alert parents that Year 10 students would be required to attend class the following day.
"The decision, whoever was ultimately responsible for it, was ill considered, impractical and failed to recognise the legitimate interests of students, parents and administrators."
The rolling strikes have been reinstated, with Year 9 students being kept home yesterday, and there are warnings of more intensified action to come such as a possible withdrawal of good will from teachers.
However, Mr Walsh is now warning both sides that it is time to think carefully about the way forward before the public good will is stretched too far.
"This collective round of negotiations for secondary teachers is taking on the hallmarks of a circus which the public is growing increasingly intolerant of. Both parties need to assess that risk carefully."
He said the industrial action tended to dampen students' enthusiasm and motivation for learning.
Parents, many of whom had been taking days off work or having to pay for care as a result of the strikes, were also running out of patience.
"I think the mood is changing from frustration to anger. My feeling is that parents have a lot of empathy for teachers and think they are worth the 4 per cent increase, but they are really getting annoyed with the continuing industrial action.
"Some of them are saying it's really hurting them in the pocket because they have had to get babysitters."
Ministry spokeswoman Julia Craven said there was "no justification" for industrial action.
"We are very frustrated on behalf of the parents and the schools that are affected. We are continuing to urge the PPTA to come back to the table and work towards settlement."
PPTA president Kate Gainsford asked parents to bear with teachers, saying they too were "very, very disappointed" about the lack of progress.
"We are very unhappy about the position that schools and teachers and communities have been put in."
Ms Gainsford said the PPTA had tried to give advance warning about strikes but had sometimes been unable to limit the disruption.