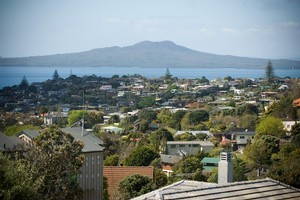 Aucklanders are facing hardship in retirement because they can't afford to buy a house, a new report warns.
A 500-page Auckland region housing market assessment, published yesterday, says half of the region's 120,000 households renting their homes from private landlords are already in "financial housing stress" - paying more than 30 per cent of their gross incomes on rent.
Retired people are the worst affected, with rent eating up more than 30 per cent of their incomes for 56 per cent of retired renters, compared with 30 per cent of renters who are still employed and 48 per cent of other renters such as beneficiaries.
In contrast, only about 15 per cent of people who own their own homes pay more than 30 per cent of their incomes on the mortgage, and at present the vast majority (about 86 per cent) of retired people own their own homes.
But one of the report's authors, Steve O'Malley of Darroch Research, said growing numbers of Aucklanders faced the prospect of being unable to buy a house before they retired.
"In New Zealand, for ever, it has been assumed that people as they move into old age would be pretty well provided for in terms of their housing.
"This work has shown that for a huge amount of the older households, the dimensions of housing need are shifting. There is a real quantum shift, I think, in the appearance of significant need for older households."
The report says houses have been priced out of reach of many working families in the past decade.
Auckland house prices soared by 95 per cent in the six years to December 2007, and fell back in the recent recession by only 2 per cent.
Home ownership in the region dropped from 69 per cent to 64 per cent in the decade to 2006, and the report forecasts that it will keep declining more gently to 59 per cent by 2026 as house price inflation returns to normal.
Declining home ownership in the older age groups, combined with the ageing population, means that almost half of the increase in financial housing stress up to 2026 will be concentrated in the 50-plus age group.
However, the report raises questions about whether landlords will be willing to provide the amount of new rental housing that will be needed to house Auckland's projected population growth if the home ownership rate continues to decline.
It says landlords would need to stump up $1.6 billion a year on new rental properties.
"This is similar to the rate of investment in the private and public rental market over the previous decade," it says.
But it questions whether investment will continue at this rate in the wake of this year's Budget, which axed landlords' ability to offset losses on rental properties against their other income for tax purposes and abolished depreciation allowances for residential property.
The report says the changes will make house prices lower than they would have been otherwise, but still assumes that prices will resume their long-term growth rate of about 6 per cent a year from around the middle of next year.
It estimates that the region would need an extra 855 units of "social housing" every year to 2026 to maintain the proportion of social housing in the total housing stock - an increase of almost 50 per cent on the recent record of Housing NZ and local councils.
Mr O'Malley said the creation of the new Auckland Council, and a law requiring it to produce a new "spatial plan" for the region by 2012, created a "window of opportunity" to rethink previous policies.
STRESSED RENTERS
* 56 per cent of retired renters spend more than 30 per cent of their income on housing.
* 30 per cent of employed renters do the same.A growing number of today's middle-aged
ON THE WEB