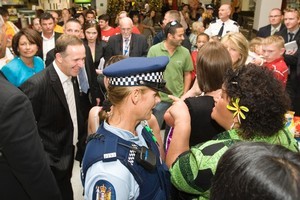 The fight for the Mana electorate heated up yesterday in the countdown for tomorrow's byelection.
A meet-and-greet with Porirua shoppers by National candidate Hekia Parata and Prime Minister John Key was disrupted by loud, unruly Matt McCarten supporters.
The pair were met and mobbed when they arrived at North City Plaza by about a dozen noisy supporters of the independent unionist candidate, and about half that number of somewhat less boisterous supporters of Labour candidate Kris Faafoi.
Efforts by the Prime Minister and Ms Parata to win over shoppers were hampered by chants of "John Key no GST " and "John Key what's the score, one law for the rich and one for the poor".
However, loudest of all was Rima Taraia who loudly harangued the Prime Minister, asking him "are you scared of me?" and "don't you want to talk to a Maori?".
Attempting to shove her way through to Mr Key, she was pushed away several times by police and the Diplomatic Protection Squad.
"I've seen it before and they'll go away when the cameras go away," Mr Key said.
"The reality is that we're the Government and we're getting out there and talking about policies. These people are activists for a small group. That's okay, they're entitled to do that and we treat them with respect even if they don't treat us with respect."
Later, during a visit to the nearby Whittaker's chocolate factory, Mr Key said Ms Taraia "wasn't acting terribly rationally" and he found some of the comments made at the mall racist.
Ms Parata said she was not distracted by the fracas.
"It was a very small group of people who are trying to disrupt our events in order to get some attention. This is the penultimate day and some of the opposition are just getting desperate to get some air time."
Mr Key and Ms Parata enjoyed a far friendlier reception a few kilometres up the road at Paraparaumu's Coastlands mall, where they chatted and joked with shoppers.
"Why aren't you at school?" the Prime Minister asked a group of teenagers. "Because of the teachers' strike," they replied.
"We'll get them back to work soon," he quipped.
Earlier, at a local travel company, after giving a short speech about National's economic policies to an audience of 30, he offered an optimistic view of Ms Parata's chances of taking the Labour stronghold.
Noting the traditionally low voter turnout for byelections, he said, "If our voters turn out, and their voters don't, you've got a new MP."
Given Winnie Laban's 6000-vote majority for Labour at the last general election, the chances are that new MP will be Labour's Kris Faafoi.
PEOPLE'S CHOICE
The Mana byelection is tomorrow. Eight politicians are standing for the seat.
* Colin du Plessis - Act
* Kris Faafoi - Labour
* Hekia Parata - National
* Matt McCarten - Independent
* Jan Logie - Greens
* Julian Crawford - Aotearoa Legalise Cannabis Party
* Sean Fitzpatrick - Libertarianz
* Kelly Buchanan - Alliance