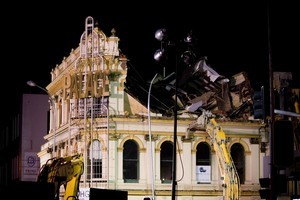 A 124-year-old heritage building in downtown Auckland, being converted into an upmarket brothel, was torn down early this morning after large cracks were found in its walls.
Demolition of the Palace Hotel - formerly the Aurora Tavern - was ordered after a passer-by noticed metre-long cracks in its walls about 4pm.
Early today, heavy wrecking machines started tearing down the building, on the corner of Victoria and Federal Sts, opposite the SkyCity Casino.
Victoria St between Albert St and Hobson was closed to all traffic, and despite the late hour, a large crowd gathered to watch the demolition.
They included a small group of anti-demolition protesters, who arrived shortly before the work started, at 12.20am.
A large digger braced the side of the building with its bucket, while a smaller digger used a claw arm to pull the first wall down.
Huge chunks of the building crumbled on to the road, smashing into individual bricks and creating a large dust cloud.
Auckland Mayor Len Brown said at the scene late last night that it was unsafe to leave the building standing.
"We cannot leave it in its present state ... If it continues to move, it reaches a point where it falls."
He said trying to salvage the pub could damage neighbouring buildings and be a danger to "life and limb".
If the old hotel was not demolished, Mr Brown said, it was inevitable the entire building would fall on to the road.
"We are desperately sad to see the loss of this building in our town, in the heart of Auckland, but we feel we have no other choice."
Demolition was supposed to start straight away, but struck a hitch - a bigger digger was needed for the job.
The original building, built in 1886, appeared to be sound but the cracks were in two annexes, added in 1889 and 1912. Both showed signs of serious cracking.
The Auckland Council's principal heritage adviser, George Farrant, said he did not know the exact cause of the problem.
"The failure is at basement level. It's slowly failing under the weight. The risk is the building will simply topple down."
Police officers cordoned off Victoria St West, between Hobson and Albert Sts, around 4pm after the cracks were found, and nearby buildings were quickly evacuated.
Tonkin & Taylor senior structural engineer Geoffrey Bradley said before the demolition work started that it would take diggers only 90 minutes to dismantle the hotel.
"It will be nibbled from the top and simply pulled out into the street."
Among those watching last night were Carla Lang and son Max, 5, who was wrapped in a duvet.
"I really don't want to see it come down; it's another piece of Auckland history," said Mrs Lang.
"In years to come, my son will be able to say he witnessed it."
But Max, who wants to be a firefighter, fell asleep before the diggers started work.
The Palace Hotel was bought this year for $3.3 million by Wellington sex industry leaders John and Michael Chow, who planned to create an upmarket brothel, taking advantage of the building's proximity to the SkyCity Casino.
Last night, Michael Chow said he had not been consulted about the demolition.
"They were not listening to my concerns. I approached the council chief executive and he just turned and walked away.
"I have a second opinion coming up from Wellington tomorrow, but they would not give me the time to do that.
"We're especially gutted the building is going, especially with the 120 year-history of the building."
Michelle Clarke grew up in the hotel, living there until she was 16.
She said her great-great-grandfather bought it and passed it down the generations.
Her parents ran it as a family pub until the late 1970s.
"It's a sad day. I'm quite shocked and I think it's just terrible."