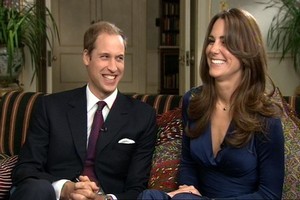 The news of Prince William's engagement to Kate Middleton was particularly well received in an iconic small cafe on the Hauraki Plains.
Angela and Bill Thompson, who run the Corogate Cafe, dubbed the "Gateway to the Coromandel" on SH25, are as dedicated royalists as one could hope to find in New Zealand.
From the floor to the ceiling, the cafe, just west of Waitakaruru, is adorned with British memorabilia - the largest collection in the country.
Each year Corogate holds a British Royal Family Memorabilia Exhibition, which includes personally gifted items from the Queen, and featured on UK television last year.
Mrs Thompson was "absolutely rapt" with the royal engagement announcement, and thought it wise the pair had waited so long before taking the plunge, considering William's parent's public separation.
"It is sensible to wait," she said. "He's very mature."
Mrs Thompson approved of William's fiancé, who will from now be known as "Catherine", rather to the more informal Kate.
"I think she's gorgeous," she said. "I think it is lovely she's an ordinary person with no airs and graces."
William was last in New Zealand in January and signalled his desire to return here for next year's Rugby World Cup. Mrs Thompson is confident the prince will visit New Zealand next year with his new wife.
"I think he will. I don't think they make those sorts of remarks and not follow through."
Although an avid supporter of the British monarchy, Mrs Thompson thinks the family could do more to promote themselves in the Commonwealth.
"I don't think they send enough representatives to New Zealand. There would be more interest in the royal family if they did," she said.
"There are a lot of people who are not interested in the royal family and I think that is sad. There is so much history and tradition there."
Mrs Thompson did not manage to see William when he visited New Zealand earlier this year, however had invited the future king to visit Corogate.
Unfortunately the tour had already been arranged and there was no opportunity for William to come to Waitakaruru.
"We received a nicely written letter from him," she said. "So we were happy."
However there is always next year.
"We've already started writing a letter this time, so they've got no excuse."