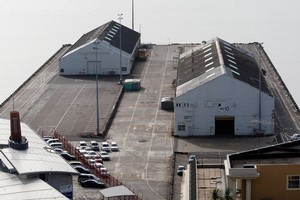 A plan to register Queens Wharf as one of New Zealand's most historic places has had a cool response from the Auckland Council.
The Historic Places Trust has written to the council outlining a plan to make the wharf a Category One historic place, after months of public and political debate over its heritage status.
Attempts to demolish two century-old cargo wharf sheds to build a new cruise ship terminal followed by a temporary "cloud" building as the party central showcase for the Rugby World Cup have been thwarted - although the smaller Shed 11 at the end of the wharf is being dismantled and removed to make way for the temporary building.
Yesterday Mayor Len Brown said he respected the role of the trust, but was wary of giving it carte blanche when a new waterfront development agency had just been set up and there were plans to develop a waterfront masterplan.
Waitemata and Gulf ward councillor Mike Lee said that in his previous role as Auckland Regional Council chairman he had advised the trust not to go down the formal path of registering the wharf, but that was what the board had decided to do.
Chief planning officer Dr Roger Blakeley said that while the council wanted to preserve the historic features of the wharf, it did not want to compromise development options.
The council adopted his recommendation that the council and waterfront development agency - in consultation with the Government, which owns 50 per cent of the wharf - work with the trust to determine the heritage status of the wharf.
The trust considers Queens Wharf qualifies as a Category One historic place, meaning it is of "special or outstanding historical or cultural heritage significance or value".
The proposed registration covers the entire wharf, including buildings and structures and their fittings and fixtures.
The ferry shelter and the Devonport ferry terminal building are included within the area for registration.
A report by Dr Blakeley said the proposed registration would not have any effect on the dismantling and removal of Shed 11 at the end of the wharf, or the development of Queens Wharf for the Rugby World Cup.
Registration of the wharf is an information and advocacy tool and does not protect the wharf. But it could lead to the Auckland Council providing protection through a subsequent Resource Management Act process, such as a plan change.