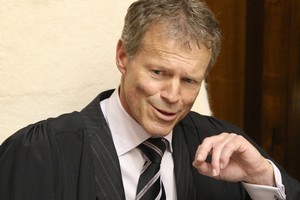 With the stroke of a pen the hated MPs' international holiday travel perk goes.
The only remaining vestige of it will be a redesigned scheme to allow subsidies for MPs' work related travel.
Speaker Lockwood Smith says it will be "transparent" - whatever that word means.
Smith gets to decide. And in an institution like Parliament, which is exempt from the Official Information Act, his definition of transparent is by grace and favour of the Speaker.
It might mean telling us how much each party is spending, or how much each MP spends, or what the spending is on or all or none of the above.
Smith was quite sensitive last night when I referred to the new work-related travel perk as a "perk."
He doesn't think it is a perk.
I think it is.
It may be a lot more palatable to the public and one that is in the public interest but it must have limits.
I'm happy to help with the design and the limits - how about a maximum $3000 a year for a three-year term that can accumulate to $9000 three years for a work-related trip for the education and improvement of an MP - to be approved by no one - but on the basis that all details of spending must be tabled in Parliament along with an explanation of the trip.
It's two third less than the annual average value of the current scheme.
The public can decide whether Trevor Mallard spending two weeks in the UK looking at national standards there or Steven Joyce spending two weeks there observing thee Tory election campaign at close quarters is justifiable.
Such is the stupidity of the old scheme that until quite recently the travel discount was not allowed to be used for even work-related trips.
Only holidays qualified.
Smith sombrely delivered the death-knell of the perk last night in the lounge of his flat in Parliament, watched on by his chief administrator, Parliamentary Service general manager Geoff Thorn, and PR practitioners Brad Tattersfield, whose forte is assisting organisations in crisis.
Smith admitted defeat - you could say against the 21st century.
He had failed to convince people why it was justified in this day and age.
The axe doesn't extend to the former MPs travel perks but you could tell by the tone of his voice that he knows it will be next.