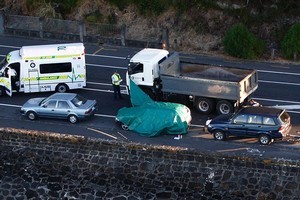 A female cyclist was hit and killed by a truck last night on Auckland's most popular and dangerous waterfront route.
It was New Zealand's fourth cycling death in five days and was followed this morning by the death of a fifth cyclist who had been critically injured in a weekend crash.
The cyclist killed last night was 27-year-old Jane Mary Bishop, a UK citizen working temporarily in New Zealand.
Emergency services closed part of Tamaki Drive and worked frantically to save the cyclist after she was trapped under a Henderson Rentals truck about 6.30pm.
The accident happened on the corner near Kelly Tarlton's marine tourist attraction.
Police said Ms Bishop took evasive action to avoid a motorist who opened a car door and fell under the truck, which was travelling in the same direction, towards Mission Bay.
A witness who was jogging said Ms Bishop was pinned under the truck's rear wheels.
"The driver brought a jack to try to jack the truck up, but he couldn't - it wasn't big enough," the man said.
"So the firefighters got their airbags and lifted the truck up. But she was in a bad way."
The witness said the firefighters gave Ms Bishop CPR to keep her alive until an ambulance arrived.
Police later urged motorists to check for cyclists when opening doors or pulling out of parking spaces.
A St John Ambulance official said Ms Bishop had died by the time paramedics arrived.
Last weekend, Wilhelm Muller, 71, and Mark Ferguson, 46, died near Morrinsville and Patricia Anne Veronica Fraser, 34, died near Palmerston North. A third person involved in the Morrinsville crash, 45-year-old Kay Heather Wolfe, died in hospital this morning.
A spokeswoman for Transport Minister Steven Joyce yesterday said the minister was very concerned about the recent spate of fatal road accidents, including those involving cyclists.
"As the details of those accidents become known, he will be reviewing them with transport officials for any common elements and to see if any changes in regulations could help," she said.
Chief Coroner Neil MacLean said last night there were plans to group a spate of cyclists' deaths together in one inquest.
He believed about 12 cycling deaths had been caused by collisions with vehicles.
Judge MacLean said the purpose of the inquest would be see if a pattern emerged and "what could be done to cut down the death toll".
Auckland regional transport officials regard Tamaki Drive as the city's the most dangerous stretch of road for cyclists.
Last night's accident was between the Kitemoana St and Atkin Ave intersections with Tamaki Drive, which were last year identified as black spots for cycling crashes in Auckland.
In 2008 and 2009, there were 24 crashes in that stretch near Bastion Pt involving cyclists, including six that caused serious injuries.
Cycle Action Auckland spokeswoman Barbara Cuthbert said cyclists would be devastated by the news.
"This is a ghastly toll for such a short time."
She welcomed the Chief Coroner's plan to investigate the common factors in the deaths.
"We have to have that big-picture analysis. In this case, we are dealing with a congested road where parked cars are a luxury that we can't afford to have."
In September last year, four cyclists were injured on Tamaki Drive when they were run over by a female motorist.
One of the cyclists, engineer Greg Paterson, was left with skull fractures, brain injuries and paralysis to the left side of his body.
In November, a man aged in his late 20s was injured by a car which came out of the Ngapipi Rd-Tamaki Drive intersection and reportedly hit him in the cycle lane.
The Auckland City Council allocated $455,000 for improving safety on the busy scenic route, with measures including extending on-road cycle lanes and improving signs.
- Additional reporting: Isaac Davison, Andrew Koubaridis, NZ Herald Staff