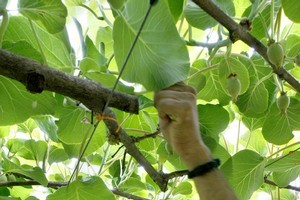 Imports of kiwifruit pollen were not routinely tested for a disease now threatening the billion-dollar industry, the Ministry of Agriculture and Forestry said yesterday.
The number of orchards confirmed with the bacterial disease Psa has risen to 13 - all within a 23km area south of Te Puke - with a further three orchards under quarantine.
MAF said initial tests on imported and local pollen samples had indicated some Psa but were deemed inconclusive because of possible cross-contamination. More tests were under way.
MAF Biosecurity response manager David Yard said there was an imported health standard for pollen.
"But the import health standards are based around the best available scientific knowledge at the time."
There was no scientific literature to suggest Psa could be transmitted in pollen, he said.
"So we haven't up to date incorporated a routine test for Psa in pollen before entry."
MAF said kiwifruit was largely pollinated by bees, although some growers supplemented this by artificially applying it to flowers, with most pollen sourced from New Zealand.
But pollen had been imported from China, for laboratory testing purposes, and from Chile, with some of the Chilean pollen applied to crops this year in the Bay of Plenty.
"If pollen is proved to be a vector of Psa it's a new discovery, as far as we are aware anyway," Mr Yard said.
Past research had clearly stated pollen was not a vehicle for Psa.
Some infected orchards were confirmed to have used imported pollen, although some growers had reported Psa symptoms before it was used.
As a precaution any pollen imports had been halted and existing stocks impounded.