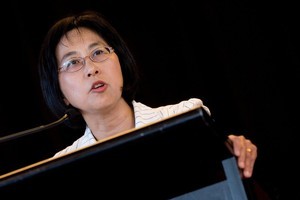 Labour is continuing its attack on Botany MP and former Cabinet minister Pansy Wong, yesterday dredging up fresh material suggesting she used her ministerial status to promote her husband's business interests during a trip to China.
Mrs Wong's principal tormentor, Pete Hodgson, released an article written during her 2008 visit to Lianyungang City he said had been harvested from a Chinese Government website.
Translated, the article reports Mrs Wong as saying the city stood to benefit from the local hovercraft business in which her husband, Sammy, was an investor.
Mr Hodgson said that Mrs Wong had left New Zealand as a private individual but adopted a ministerial role once she arrived in China. "She then directly promoted her husband's hovercraft business interests."
He said her actions "make a mess" of parliamentary rules intended to keep MPs' public and private lives separate.
While he would not say Mrs Wong's actions were corrupt, they were "closer to corruption than I think is remotely acceptable".
Labour leader Phil Goff said it was becoming increasingly clear Mrs Wong should resign from Parliament. He said Parliament's rules were clear and designed to prevent corruption so the sanctions for breaching them were severe.
She could face a police investigation and prosecution if a Parliamentary Service review concluded she had misused her perks or other entitlements. The review was to establish whether Mr Wong had previously used them for business travel, which is against the rules.
"It's not acceptable and time and again you've seen Pansy Wong blur personal business interests and the pursuit of those interests and parliamentary entitlements. That's not good enough."
In at least two previous cases, former MPs David Butcher and Roger McClay were successfully prosecuted for misusing their perks as ex-MPs. Although in previous cases the Parliamentary Service has asked police to investigate, any ordinary civilian can lay a complaint. Ms Wong has not yet spoken publicly about the accusations against her and Prime Minister John Key has said she should not comment until she had read the Parliamentary Service review. He said he was powerless to sack her from Parliament because she was an elected MP. Although endorsing her husband's business while meeting officials as a minister would be a breach of the Cabinet manual, he could not act because she had already resigned her portfolios.
Mrs Wong resigned as Minister of Ethnic Affairs and Minister of Women's Affairs late last week after it emerged she and her husband had breached parliamentary rules by conducting business activities while on at least one trip partly funded by the taxpayer using the MPs' travel allowance.
On Monday, Mr Hodgson compounded her problems by revealing Mr Wong had used his wife's electorate office as the registered address for two of his private companies.
Mrs Wong's alleged blurring of the boundaries between her public duties and private interests has drawn comparisons to former Internal Affairs Minister and MP Richard Worth, who ran into trouble after taking a private trip to India where he spoke in his ministerial capacity and also promoted a company in which he had an interest.
Mr Hodgson said National's ministers should have been warned about using their positions for private benefit after the Worth affair and yet Mrs Wong appeared to have done the same thing.
"I wonder who is next?"