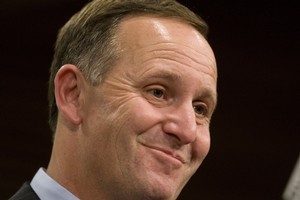 Prime Minister John Key says he expects MP Pansy Wong to front up on claims about her husband's business interests but has defended her delay in doing so.
Mr Key said this morning Ms Wong was advised to wait until a Parliamentary Services inquiry into her use of international travel discounts was complete before speaking about it.
Labour leader Phil Goff attacked Mr Key for "protecting" Ms Wong when it was already clear she had done wrong. He said it was for the inquiry and, possibly ultimately the courts to decide if Ms Wong's actions amounted to corruption.
However he believed she should resign from Parliament for her husband's use of travel rebates on trips where he conducted business as well as new revelations her electorate office address was also the service address for some of her husband's businesses.
"She knows what she's done, she must be held accountable for that. She is a Parliamentarian, she was a minister, she must front up and justify herself."
He said the rules were "crystal clear' that MPs could not mix their Parliamentary and business interests.
"It's not acceptable and time and again you've seen Pansy Wong blur personal business interests and the pursuit of those interests and Parliamentary entitlements. That's not good enough."
However Mr Key said Ms Wong deserved to have the facts in front of her before she had to respond.
"We live in an environment where it's important to have the information .. We don't live in world where it's a kangaroo court. I expect my MPs to front up, I expect her to front up but I expect her to have the facts first."
He said he learned from the Phil Heatley incident the importance of waiting until all the facts were known.
That related to Mr Heatley's use of his credit card for some personal spending and to pay travel costs for his family.
Mr Heatley resigned as minister but was reinstated by Mr Key after an Auditor General inquiry found the rules were ambiguous and cleared Mr Heatley of deliberate wrongdoing.