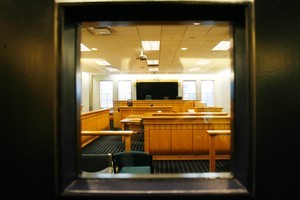 The Government is proposing to end the right of a defendant to elect trial by jury for about 80 offences, including smacking a child.
The move to limit jury trials to more serious and complex cases is expected to cut the number of jury trials by between 1000 and 1400 annually.
The move is part of a package of sweeping reforms announced yesterday by Justice Minister Simon Power in a bid to reduce the time cases take and simplify the criminal justice system.
"The system is clogged and needs to be fixed," he said, estimating that there were 43,000 unnecessary court appearances each year.
At present, with a few exceptions, defendants charged with an offence punishable by more than three months in prison have the right to elect a jury trial. That is guaranteed under the Bill of Rights Act, which will have to be amended if the new law is passed.
Under the proposed law the threshold will be raised to offences punishable by more than three years' imprisonment.
People charged with offences that fall within the new limits will have to have their cases heard by a judge alone.
While the list of offences that would be affected is long, officials have advised Mr Power that the most common cases would be theft of between $500 and $1000; receiving between $500 and $1000; possession of a class A drug; common assault; and assault on a female or child.
Other significant changes proposed include:
* Requiring the defence to identify and disclose issues in dispute before a trial;
* Allowing courts to proceed in the absence of a defendant if the court is not satisfied he or she has a reasonable excuse for absence;
* Allowing greater flexibility to continue with a trial when jury numbers fall to 10;
* Requiring the court to take into account a defendant's compliance with procedural matters as a mitigating or aggravating factor at sentencing;
* Promoting out-of-court discussions between parties so there are fewer adjournments and shorter hearings;
* Changing the categories of offences from seven to four and removing the distinction between summary versus indictable offences and their links to different courts.
Mr Power's reforms are proposed in the Criminal Procedure (Reform and Modernisation) Bill, which is 526 pages long.
It takes an average of 16 months to complete a jury trial in the High Court and 12 months in the DistrictCourt.
Bob McCoskrie, the national director of Family First, which opposed Sue Bradford's anti-smacking law, said that while Mr Power's reforms were well intentioned, the Government had not thought through the implications for parents "prosecuted for minor acts of physical discipline or smacking".
The proposed regime suggested that assault, including domestic assaults, were a more minor offence yet a conviction for assault was actually a serious conviction.
"It is vital that parents have theright retained to be judged by their peers."
The opposition Labour Party's associate justice spokesman, Charles Chauvel, said that while some change in the threshold for jury trials made sense, Labour would reserve its position until it had heard select committee submissions.
Some of the charges no longer tried before a jury (with current maximum term):
SIX MONTHS
* Ill treatment or wilful neglect of child
* Possession or use of class A drug
ONE YEAR
* Possession of unauthorised seed or fruit
TWO YEARS
* Driving with excess breath alcohol (3rd offence onwards)
* Driving while disqualified (3rd offence onwards)
* Bigamy
* Infanticide
THREE YEARS
* Assault with intent
* Making intimate visual recording
* Aggravated careless use of vehicle causing injury or death
* Indecency with animal