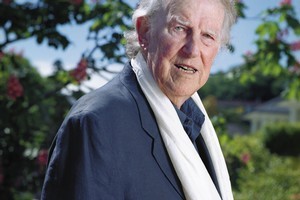 The Ministry for Culture and Heritage says it's relieved a watch owned by Sir Edmund Hillary and deemed to be of great historical significance to New Zealand was withdrawn from a Swiss auction at the weekend.
The Rolex Oyster Perpetual presented to Sir Ed after he and Sherpa Tenzing Norgay conquered Mt Everest in 1953 was one of six Sir Ed's widow, June, Lady Hillary, had sent to Switzerland to be auctioned.
But the watch, which Sir Ed wore on the Trans-Antarctic expedition from 1955 to 1958 and which was expected to bring up to $25,000 in the sale, was withdrawn from sale along with five other of the explorer's watches.
It came after Sir Ed's children, Peter and Sarah Hillary, were granted an injunction in the High Court in Auckland to stop the sale.
The ministry contacted Lady Hillary's lawyers late last week to say it viewed the Oyster Perpetual watch as a protected New Zealand object and as such it should be returned to New Zealand.
Ministry chief executive Lewis Holden told NZPA he was delighted the sale did not go ahead.
"The key thing is the immediate risk and concern, which was that this particular watch would be sold and thereby lost to New Zealand. It wasn't auctioned, and that is a significant development," he said.
"It would be very difficult to get it back if it had been sold. There are various international agreements that New Zealand is a signatory to, but it is very difficult to uphold the domestic law of New Zealand in another country."
Mr Holden said the ministry was still awaiting a formal response from Lady Hillary's lawyers "but we are hopeful that it will be returned to New Zealand".
Advice was sought from two experts late last week as to whether the watch was covered by the Protected Objects Act.
"They were very clear that not only was this a protected object but that a permit for export should not be granted in this instance," he said.
"I don't think they found it (the decision) very difficult at all."
Mr Holden said there were probably hundreds of thousands of objects which had protected object status, including some Hillary memorabilia of even greater significance than the watch.
However, he said the power to prevent export was rarely granted.
"Last year we had 109 export applications. There were 54 which were not deemed to be protected, and of the remaining 55, all but three were granted export permits."
He said 35 temporary export permits were granted, which were mainly items for overseas exhibitions or which an owner might want to take with them.
The sale of protected objects within New Zealand was not usually regarded as problematic, Mr Holden said.
The ministry said last week that Lady Hillary may not have known of the legal status of the watch when she sent it to Switzerland with the others in the collection to be sold.
A spokeswoman for the Geneva auction house, Antiquorum, would not confirm at the weekend whether a $105,000 penalty payment would be charged for the watches' withdrawal from the sale, saying that the auction house's general manger would be available to answer further questions on Monday (Swiss time).
Peter Hillary said last week that the watches and other items from his father's estate were of great significance to his family and to New Zealand.
It was "very sad" he and his sister had been forced to take court action to stop his stepmother from going ahead with the sale.
"There have been a number of very significant items from the Ed Hillary collection that do belong to Sarah and I, that have been disposed of inappropriately."
- NZPA