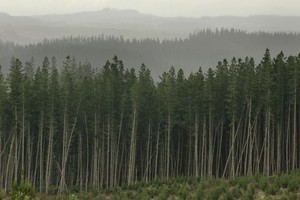 New Zealanders want action on climate change, but don't want to pay too much for it, a survey has found.
This year's climate change survey, released by rural business advocates the Greenhouse Policy Coalition, found 38 per cent of respondents opposed providing carbon credits to businesses, compared with 51.8 per cent last year.
"The latest results suggest people are increasingly open to helping protect the competitiveness of businesses and farmers as we move ahead with carbon pricing," coalition executive director David Venables said.
The poll found that compared to last year, there was a drop in the number of people who saw climate change as a priority compared with other issues, and an increasing concern about the risk that dealing with climate change posed to jobs and people's standard of living.
The public held contradictory views about climate change - wanting action while at the same time being worried about costs, Mr Venables said.
A quarter of the 503 respondents thought the Emissions Trading Scheme (ETS) should be scrapped altogether.
"We also asked people whether they thought farming should be included in the ETS. The results show an even split among New Zealanders," Mr Venables said.
Nearly 47 per cent of respondents thought farming should not be in the ETS, while just over 45 per cent thought it should be included.
"Having said that, the survey results also suggest many people want the ETS to continue on track and for New Zealand to take action on climate change without necessarily waiting for other countries."
Mr Venables said given the "confused situation" of the public's desire to act but also to avoid excessive costs, the Government should continue to take a cautious approach to demands for tougher action on climate change.
- NZPA