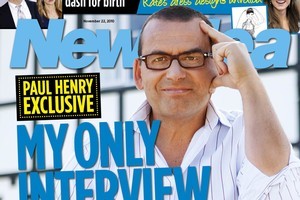 Former Breakfast host Paul Henry says TVNZ encouraged him to be provocative - but then treated him unreasonably when his on-air comments sparked a public backlash and led to his resignation.
Henry, breaking his silence to New Idea magazine, says he was "appalled" that New Zealand officially apologised after he ridiculed the name of senior Indian Government minister Sheila Dikshit.
He said he had nothing to be sorry about, despite the public uproar over that incident and another in which he questioned whether Governor-General Sir Anand Satyanand was "even a New Zealander". He felt TVNZ management had routinely encouraged him. "There was an acceptance of the entertainment value derived from the way I performed. They did capitalise on me.
"I was the performing snake with the sting in its tail. The better the performance, the greater the encouragement. And then when I turned around and bit someone's head off, they were happy to see the demise of the snake.
"I don't think it was reasonable. I was surprised with the speed with which the mood changed. My overwhelming feeling was I'd turned from an asset into a liability."
Henry told New Idea it was clear that Sheila Dikshit's name was pronounced the way it looked. "I'm appalled that this country officially apologised. It was unreasonable for India to seek an apology, and worse that we gave one. We are apologising for one person in the country exercising their right to freedom of speech. I think that's an outrage.
"Where is the greater offence? Laughing at somebody's surname or actually deliberately mispronouncing it so it isn't funny?"
Henry told New Idea the saga had left him astonished and dumbfounded. "What happens on a Monday morning on a breakfast show is about as important in your life as the bug that flew into your room the night before.
"If people want to elevate you to godlike status or want to put you between one country and another's free-trade agreement, that says more about them than it does about you."
TVNZ spokeswoman Megan Richards declined to comment on Henry's criticism.