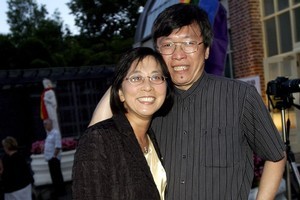 A second business trip to China by the husband of MP Pansy Wong which coincided with the Prime Minister's 2009 visit is likely to come under scrutiny as part of an investigation into the travel perks that caused her downfall as a minister.
Mrs Wong quit the Cabinet yesterday after it was revealed her international travel perks paid for part of her husband Sammy's holiday trip in late 2008 to China, where he also did some business.
Mrs Wong qualifies for a 90 per cent discount on personal international travel but the rules prohibit using the perk for business purposes.
At the National MP's request, the Speaker has also begun a further investigation into other uses of the perk by Mrs Wong and her husband because she could not give an assurance that the breach of rules on the 2008 trip was a one-off.
Among Mr Wong's recent travels was a trip to China on business in April 2009 during which he met up with his wife, who accompanied Mr Key on his first official visit to China.
The Cabinet's approval of Mrs Wong's own ministerial travel noted she would be joined by Mr Wong, who would already be in China on personal business, and that no extra cost would be involved.
Yesterday, Mrs Wong did not respond to an inquiry about whether Mr Wong used the rebates for that trip. MPs' expenses releases show her overall cost for spousal travel and international rebates for the six-month period in question was $2733.
Mrs Wong's ministerial credit card receipts show she had a room for two at the St Regis for three night, totalling $728.
It is not yet known how much Mrs Wong will have to repay for the trip to China in 2008.
It is understood there were several flights - both international and within China - and it is not yet known which the rebate was used for.
Further bills could follow - Mrs Wong has promised to repay the money for any other breaches uncovered by the investigation.
Yesterday, Mr Key said Mrs Wong had been a good minister but had failed in her responsibility to oversee the use of the perk.
He did not believe she had deliberately rorted it and said she had paid a high price.
Labour leader Phil Goff said that if there was a repeated pattern of misuse, the police should investigate it.
He said the rules against using taxpayer-funded privileges to further an MP's own business interests were well known and should not be treated lightly.
The PM indicated his growing frustration with the perk and the strife it has caused. Although he has barred ministers from taking spouses with them on the ministerial tab, he cannot prevent MPs using the individual entitlement of the travel rebate.
"I've made it clear what my views on the discount are but MPs do use it and they're entitled to. I'm not their keeper in that regard; that's actually a matter for the Speaker."
Mr Key checked how the 2008 Wong trip was paid for only after journalists asked about it, saying he expected his MPs to follow the rules so had not asked earlier.
It followed criticism from Labour MP Pete Hodgson of Ms Wong for using her ministerial title when witnessing a business contract for her husband in China.
Mr Key yesterday stood by his defence of her for doing so, saying both Crown Law and the Cabinet Office had said it was the correct course.
The Herald has been assured by the offices of Cabinet ministers Judith Collins, Wayne Mapp and Anne Tolley that they and their spouses' use of parliamentary travel allowances fell within the rules.
Green Party co-leader Metiria Turei said Ms Wong's "mistake" showed the need for MPs' perks to be overhauled by an independent body.
Georgina te Heuheu will be the Acting Minister of Ethnic Affairs and Women's Affairs.
Notorious travel perk users
Rodney Hide, Act Party leader: Parliament's "perkbuster" lost credibility when it was revealed that taxpayers paid almost $22,000 so his girlfriend Louise Crome could accompany him on a holiday to Hawaii last year, and then on a ministerial trip to Britain, Canada and the US.
Sir Roger Douglas, Act list MP: Taxpayers paid 90 per cent of airfares for him and his wife to fly to London to see their son and grandchildren, making up part of a $44,411 travel bill for the first half of last year.
Chris Carter, Labour MP and former Education Minister: After racking up an $83,000 travel bill as Education Minister in 2008, Mr Carter went on to tot up $82,000 in parliamentary spending over his first six months as an Opposition MP, $57,000 of which was for travel.
Roger McClay, former National MP and minister: In August, Mr McClay received a sentence of 300 hours' community work after being convicted of charging charities he was working for $25,000 for travel already paid for by his ex-MP's travel allowance.
- additional reporting: Adam Bennett