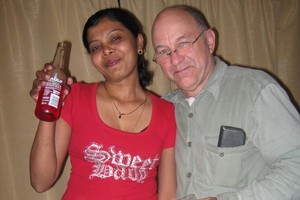 A woman has been told she is responsible for a foreign student she sponsored - even though the student has left her home with the sponsor's partner.
Jay Chetty is angry Immigration NZ will not release her from her sponsorship obligations after 28-year-old Ranjeeta Raj Mani "destroyed" Ms Chetty's relationship with her 60-year-old partner.
Ms Chetty agreed in June to sponsor Ms Mani, who is from Fiji, when she could not show Immigration NZ she had enough funds to support her studies.
But Ms Chetty said the relationship soured after Ms Mani, who had been staying at her South Auckland home, got a little too close to her partner, John Shapcott.
"I was extremely hurt and at a total loss about what to do then, so I wrote to Immigration telling them about our situation and to withdraw my sponsorship for Ranjeeta."
Her letters to Immigration and the minister also expressed her concern over the appropriateness of the relationship between her partner and the sponsored student.
"I was shocked when they said in a letter they will not release me, and that I will continue to be responsible for her."
Immigration manager Bernard Maritz said in the letter: "Merely withdrawing your sponsorship for Ms Mani does not release you from your responsibilities until such time as she has left the country."
Said Ms Chetty: "She destroyed my relationship with John, for God's sake. This policy is not just unfair, it is cruel, rude and pathetic. Why is Immigration allowing people who behave inappropriately to carry on staying in New Zealand, when they are breaking up families and homes?"
Immigration NZ chief Nigel Bickle said the Immigration Act did not provide for sponsors to withdraw from the agreement they had signed, and where sponsorships were withdrawn, they would be considered case by case.
Changes to the act taking effect from November 29 would make sponsors of temporary migrants also responsible for costs including medical, deportation and other expenses incurred by the Government.
But Mr Bickle said the responsibilities would not be imposed on existing sponsors such as Ms Chetty.
He said it would be possible for a person to change sponsor under the new provisions.
Mr Shapcott said he was prepared to take over Ms Mani's sponsorship if that was possible. He would not say if he and Ms Mani were now living together or whether they were a couple, but said he cared for her as "a father or an uncle would".
"I left my partner because our relationship ended. It's just that plain and simple."
Ms Mani's immigration adviser, Viveg Mudaliar, said new evidence had been submitted to Immigration NZ to show she had enough funds to support her studies and no longer needed a sponsor.