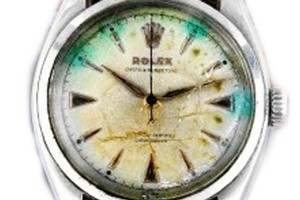 June, Lady Hillary, has been asked by the Ministry for Culture and Heritage to return one of her late husband Sir Edmund Hillary's wristwatches to New Zealand after she entered it for sale at a Swiss auction house - because of its historical importance.
The Rolex Oyster Perpetual was presented to Sir Ed after he and Sherpa Tenzing Norgay became the first men in the world to climb the 8848-metre high Mt Everest in 1953.
Sir Ed wore the watch on the Trans-Antarctic Expedition from 1953 to 1958, and there were estimates it would bring up to $25,000 at auction.
The Ministry for Culture and Heritage has found that watch had legal protection under the Protected Objects Act, and wrote to Lady Hillary's lawyers this afternoon informing her of that and asking her to return it, a spokeswoman said.
The ministry was waiting for a response from her lawyers before decided its next course of action.
Yesterday, the ministry said if the watches were found to have legal protection under the Act, the New Zealand and Swiss governments may get involved.
The watch was part of a collection of Sir Ed's watches that Lady Hillary had planned to sell in Geneva during the weekend.
His children, Peter and Sarah Hillary, were also granted a High Court injunction today to stop the auction.
"I believe that it has been stopped for the time being and we are hopeful we can preserve these legacy items. They, along with a lot of other items, are of great significance to this family and I would suggest in some respects to New Zealand, in terms of being important items from the Ed Hillary collection," Peter Hillary told NZPA .
He said it was "very sad" he and his sister had had to take court action to stop his stepmother from going ahead with the sale, but it was the straw which had broken the camel's back.
"There have been a number of very significant items from the Ed Hillary collection that do belong to Sarah and I, that have been disposed of inappropriately."
Taking court action to stop Lady Hillary from selling the watches was gut wrenching.
"There are a lot of better, more enjoyable things to do, but we have got to a stage where we have to stand up to preserve important emotional, legacy items, not only for our family but for ourselves and in some cases for New Zealand."
Some of the items could sell for a lot of money, but money was not the issue, he said.
"We just want to have them because it is the connection."
His father liked his collection of watches but "they were not sitting in a big cabinet.
"They were floating around in a cupboard, on top of his dressing table or in a drawer."
Mr Hillary would not say why he believed Lady Hillary had not consulted either him or Sarah before sending the watches to Switzerland to be sold.
Neither Lady Hillary nor her lawyer were available for comment.
Sir Ed died in January, 2008.
- NZPA