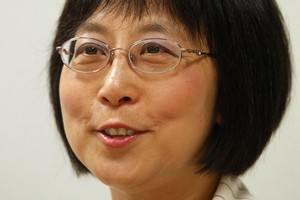 The debate over whether Women's Affairs Minister Pansy Wong breached cabinet rules by identifying herself as a minister when she witnessed a business deal involving her husband has turned personal.
The agreement between Lianyungang Supreme Hovercraft Ltd and Pacific Hovercraft New Zealand Ltd was signed in China in September last year.
Mrs Wong's husband, Sammy Wong, is listed as a director of the Chinese company and the Wongs were together on a private trip when the deal was signed.
Mrs Wong signed as a witness and put her occupation as "Minister of the NZ Government", and put her address as "Parliament Buildings, Wellington, NZ".
Labour MP Pete Hodgson has accused Mrs Wong of trying to further her husband's interests and said in Parliament today her aim had been "to make a bunch of money but the deal went bad".
National MP Tau Henare interjected Mr Hodgson's questioning with "grubby", while acting Prime Minister Bill English said the allegations were "disgraceful".
"... the fact is, Pansy Wong signed a private document that required her to list an occupation and if there was any influence at all, it can only be that she influenced her husband," Mr English said.
"The member's allegations are disgraceful, they have impugned a Member of Parliament in a way that is absolutely unnecessary and unjustified and it's more of the nasty, smearing Labour Party who believe if they keep saying it, eventually someone will believe it. The member should be ashamed of himself."
A spokeswoman for Mrs Wong told NZPA yesterday the minister had sought Cabinet Office advice and had not done anything wrong.
"That advice is that there's nothing wrong with witnessing a document as she did," the spokeswoman said.
"The Cabinet Manual wasn't breached, nor was anything else. It's Pete Hodgson once again trying to muckrake and smear and it shows Labour isn't focused on the issues that matter."
Prime Minister John Key's chief press secretary, Kevin Taylor, put it more bluntly when he reportedly told Radio New Zealand Mr Hodgson was a "f...wit" - a comment Mr Hodgson later said was not helpful or accurate.
- NZPA