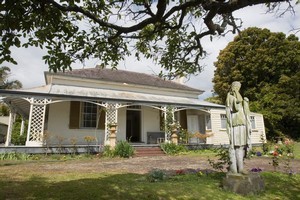 A Parnell house that served prominent pioneers is looking for new owners to restore it to its former glory.
Built to last in 1843, with 300mm thick bluestone walls, Hulme Court at 350 Parnell Rd is described as the oldest house in Auckland to survive on its original site.
A hatch in a bedroom floor once led to a tunnel coming out in a Parnell back street - an escape route in case of attack during the 1860s New Zealand Wars.
Heritage conservation architect Adam Wild said owners and tenants were some of the most prominent and colourful of the Auckland military and political scene.
It was named after an owner, Colonel William Hulme, who commanded a British regiment. He bought it from lawyer, property speculator and later premier Frederick Whitaker.
It was then owned by Native Affairs Minister Sir Francis Dillon Bell. The country's second governor, Sir Thomas Gore-Browne, lived there while Government House was being built and Anglican Bishop George August Selwyn rented it for a time.
Bishop Selwyn's wife Sarah described the library as "the most pleasantest room in New Zealand".
Wrapped in a veranda, adorned with finely detailed trellis and shuttered windows, the Regency style house and its forecourt of lawn and statues has been much admired by mainstreet strollers.
But it looks tired, has weathertightness issues and veranda timber needs replacing.
The present owners, the Maguire family, have lived in it since 1951.
The present generation's grandmother, whose coalminer husband was an invalid, turned it into flats by attaching buildings to it in order to earn an income. Lyn Maguire said the building's Category 1 Historic Places Trust registration was appreciated by the family but it had been assessed as only "generally in fair condition".
"There are things we could do but we just don't have that kind of money.
"It's such an important icon and part of Auckland's history that it's better to do it properly."
Agent John O'Brien, of Bayleys Real Estate, was confident that the house would attract someone who admires the history of Auckland and wants to renovate it.
He said much of the house was unchanged. The rating valuation is $4.12 million.