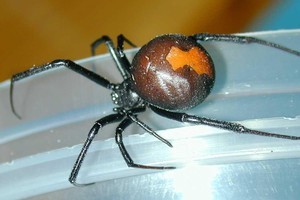 Redback spiders could pose a real threat to New Zealand's native wildlife, according to AgResearch scientist Dr Cor Vink.
Although it was previously thought the Australian spider could not establish in even moderately wet climates, research published this month in the international journal Biological Invasions suggests the redback would thrive in some parts of New Zealand.
AgResearch scientist Dr Cor Vink told Radio New Zealand the spider would likely live urban areas near ports which is of concern to humans, however the real threat is to native wildlife.
"We have DNA evidence that is has interbred with the Katipo near Gisborne at some point in time, and also in Central Otago we have found the remains of endangered beetles, the Alexandra chafer beetle, in its web," Mr Vink said.
"We haven't found any evidence of it feeding on skinks, but in Australia they certainly do feed on skinks and very small snakes even.
"Their web is incredibly tough so anything that blunders into the web is fair game for it."
Mr Vink said while the spider was poisonous, its bite was not fatal.
"You won't die, you will just feel like you are going to," he said.
"There are accounts of people saying it is like having your skin ripped off."
- NZHERALD STAFF