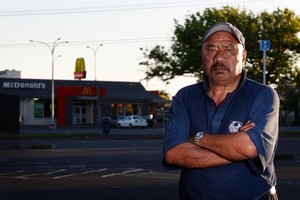 Police were last night interviewing the mother of a 2-year-old girl found outside a McDonald's restaurant on Saturday.
The toddler was spotted outside McDonald's in Otara about midday and had been in the care of police and Children, Youth and Family Services since then. No one had reported the girl missing.
Yesterday afternoon, police urged anyone with information about the girl to come forward.
By 9.30pm last night, the mother and a second relative came forward to claim the child.
Senior Sergeant Matt Rogers said last night police were interviewing the family members but it was too early to say whether charges would be laid.
"It's premature to contemplate whether their actions were criminal at this stage."
The girl had spoken about "Mum" and also mentioned the name "Kieran", said Otara Youth Aid Sergeant Mike Wharepouri.
James Ngaro, 61, was working security for the flea market on Saturday morning when he saw the girl standing near the vegetable lane at the markets.
"I saw this cute little child and everybody's just walking past and I thought, 'that's not right'. She was just standing there."
Mr Ngaro watched for a while and became suspicious when no one came for her.
"She looked sad, but she wasn't crying," he said.
She had a lollipop in her mouth, which made Mr Ngaro think she hadn't been left alone long when he found her at about 10.30am.
"I started calling the rest of the team to see if there was anyone looking for their children and they said no."
When no one claimed the girl, one of Mr Ngaro's co-workers walked around the markets with her in the hope someone would recognise her.
But no one did and no one reported her missing.
Bunny Toki - a union representative for the flea market - took the toddler to Otara police station after the market closed.
Mr Ngaro said he was sad that the toddler had been without her family for so long.
"I forgot all about it and thought she must have got found and the police rang this afternoon. I was pretty upset.
"I have a lot of mokos [grandchildren] and I wouldn't want any of them left like that or any child at all."
Mr Wharepouri said often children and their parents were reunited within 20 or 30 minutes - but this had officers puzzled.
"We're not sure why people would not notice why a 2-year-old isn't at home ... we can't rule anything out or anything in.
"We've got the 2-year-old, which is normally the biggest problem."
Security cameras for the Manukau Institute of Technology overlook the carpark near where the girl was found.
The head of security said last night that police had taken the CCTV footage from around the time the girl had been abandoned.
The girl was last night in Child Youth and Family care.
- additional reporting Amelia Wade