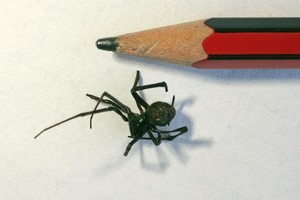 New research shows more redback spiders could be nesting and breeding in New Zealand.
Commonly associated with Australia, the number of sightings of the small but deadly spider is up on this side of the Tasman.
Research published this month in the international journal Biological Invasions, shows conditions in some parts of the country allow the spiders to live and breed.
"We originally thought the spiders couldn't establish in even moderately wet climates, but they are surviving in places with relatively high rainfall like New Plymouth. The research strongly suggests that where there is shelter from rain, particularly in urban areas, redbacks can establish and survive," says AgResearch scientist Dr Cor Vink.
Dr Vink says redbacks can breed easily in warm, dry conditions and spider colonies could prosper in urban Auckland, Hawkes Bay, Tauranga and central Otago.
Although small, redbacks are highly poisonous - Dr Vink said the spider's bite is "excruciatingly painful".
The Ministry of Agriculture and Forestry (MAF) says the spread of the spider would be problematic.
'It is regarded as a potential problem from a human health perspective," MAF's Dr Doug Lush told ONENEWS.
And while border security is doing everything it can to find spiders in shipping containers, Dr Lush says redbacks are still getting through.
- NZHerald.co.nz staff