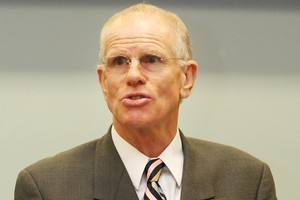 Lawyers for Sir Edmund Hillary's children will seek a High Court injunction to stop the auction of the adventurer's Rolex watches.
Peter and Sarah Hillary are trying to stop their father's widow, Lady June, selling a gold watch worth more than $25,000 and other watches. The siblings have barely spoken to her since Sir Ed died in January 2008.
The Oyster Perpetual watch was presented to Sir Ed by Rolex after his ascent of Mt Everest in 1953.
He wore it when he led the New Zealand Antarctic Expedition to the South Pole in 1958.
He became the advertising face of Rolex and was given other watches. The collection is to be auctioned in Switzerland next Saturday.
But Peter and Sarah Hillary claim that they - not Lady June - own the watches.
Their lawyer, Alex Witten-Hannah, wrote yesterday to the directors of the auction house Antiquorum in Geneva to stop the sale.
"Lady June Hillary had no legal authority to place the watches with you for sale. The sale must not proceed," the letter said.
"The watches are of very great sentimental value to Sir Edmund Hillary's children and grandchildren. They are greatly distressed that these family heirlooms ... have been put up for public auction."
If the watches were not withdrawn, Mr Witten-Hannah said he would instruct a barrister to seek a High Court injunction until ownership could be argued in court.
"If the watches are sold, there's no way of getting them back."
The Herald broke the news of the Hillary feud yesterday which Julien Schaerer, of Antiquorum in Geneva, said he read with interest.
Lady June has said that she owns the watches. Her lawyer, Ian Lowish, confirmed he had received a letter from Mr Witten-Hannah.
A copy of Sir Ed's will shows that he bequeathed to Lady June the camera, ice axe, spanner, named enamel mug and silk gloves that he took on his Everest expedition. She also received the largest pieces of rock from the summit.
These have been donated to the Auckland Museum. Personal papers, diaries, maps, colour slides and photographs were given to the museum. But, financial sums to other family members aside, the balance of his estate was to be divided between Peter and Sarah Hillary.
Mr Hillary said he had been very disappointed to learn the watches were up for sale. He said "barely had a word" been spoken with Lady June since his father's death.
"It's not an uncommon story with second marriages. That's the reality. The last thing I want is to be in a situation to dispute it. But it really appears that June has retained a whole lot of things that rightfully belong to the Hillary family."
Cordy's auctioneer, Andrew Grigg, said that without the adventurer's association, the watch would probably be worth $5000.
What's in a name
Rolex Oyster Perpetual watch
* Owned by Sir Edmund Hillary: $25,000-plus
* Owned by anyone else: $5000