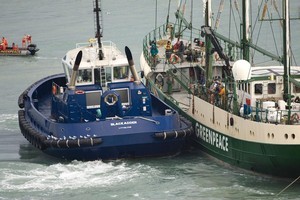 The High Court has dismissed an appeal by a former Rainbow Warrior captain against his convictions over obstructing a coal carrier in Lyttelton Harbour two years ago.
Captain Derek John Nicholls pleaded guilty at the Christchurch District Court in June to breaching the Local Government Act and the Maritime Transport Act, and was convicted and discharged.
In March 2008, Capt Nicholls manoeuvred the Rainbow Warrior in Lyttelton Harbour without a pilot onboard, as required, and refused an order from the harbourmaster to move the ship when it was deliberately obstructing another vessel.
The Rainbow Warrior had been in the harbour for several days on Greenpeace-related activities before Capt Nicholls moved the vessel from its berth without notifying the harbour authorities, sailed across the harbour and positioned it next to the Hellenic Sea.
The acting harbourmaster and police boarded the Rainbow Warrior and were told by Capt Nicholls that he was staging a peaceful protest.
The Hellenic Sea was loaded with coal and waiting to sail to China, and Greenpeace was taking a stand against global warming.
After Capt Nicholls refused an order to move the Rainbow Warrior, port authorities moved the vessel using a tug.
Greenpeace paid a significant sum towards the cost of the tug ahead of the District Court sentencing, when Capt Nicholls was convicted and ordered to pay costs of $130 on each charge.
Capt Nicholls wanted his conviction dismissed, as it would make travel for Greenpeace activities difficult in future.
The sentencing judge, Christopher Somerville, was told that Capt Nicholls was an extremely experienced ship's master with an impeccable safety record, who had taken care to avoid endangering other users of Lyttelton Harbour.
In dismissing the appeal, Justice Graham Panckhurst agreed that the incident was not particularly serious, but the actions were premeditated, and the captain had been involved in two similar incidents in Australia.
Environment Canterbury regulation director Kim Drummond said pilotage laws were fundamental to the running of port operations.
"This case is not about Greenpeace or the reasons why Captain Nicholls acted in the manner in which he did, but rather that he broke the law and caused considerable disruption at the port," Mr Drummond said.
- NZPA