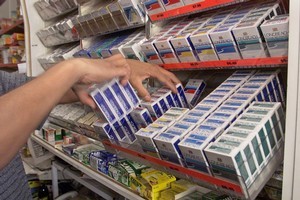 Tobacco products are to be hidden and anti-smoking officers will get powers to instantly fine shops under get-tough measures announced by the Government.
Associate Health Minister Tariana Turia said that Cabinet had backed a package of legislation to tighten tobacco controls.
Mrs Turia hopes to introduce the legislation to Parliament before Christmas. Once passed, any visible display of tobacco products for sale will be banned.
And "smoke-free enforcement officers" will be authorised to hand out instant fines to retailers selling to under-18s.
The officers were given the power to police pubs with video cameras in 2003.
Health Ministry public health chief advisor Ashley Bloomfield said there were already up to 30 such officers around the country policing shops.
They typically used under-age volunteers to build their case, Dr Bloomfield said.
The new legislation would allow the officers to impose instant fines rather than take the case through the courts, he said.
The maximum penalty for selling to a minor has been $2000, but courts have generally ordered fines between $300 and $500. While details are yet to be worked out, the instant fines are expected to be set near this range.
Cancer Society Health Promotion manager Jan Pearson said retailers' tobacco displays, or "power walls", were used by the tobacco industry to attract new smokers, and taking them away would improve public health.
"We've called for the displays to go for a number of years ... This will have a great impact on reducing the number of smokers," Dr Pearson said.
But a retailers' lobby - which a tobacco company has previously revealed it backed - said shopkeepers' safety and livelihoods had been imperilled by the changes.
Association of Community Retailers spokesman Richard Green's media statement did not elaborate on how retailers' safety would be put at risk, and he did not return calls made by the Herald last night
The association is a successor to a past campaign, Stay Displays, which had specifically advocated to retain tobacco retail displays.
Another association, the Association of Convenience Stores, which has a tobacco company representative on its board, said said it could cost $50 million altogether for New Zealand retailers to rearrange their shops.
"New Zealand retailers now face greater threats of abuse, robbery and aggravated assault as they are forced to hunt for tobacco that makes up to 40 per cent of their sales," said chairman Roger Bull.
Meanwhile, British American Tobacco New Zealand welcomed the Government's announcement to let smoke-free enforcement officers issue instant fines.
"Instant fines for retailers caught selling tobacco products to people under the age of 18 may well force retailers to be much more vigilant," said Susan Jones, head of corporate and regulatory affairs.
But there was no compelling international evidence that a ban on the retail display of tobacco products would have any impact on smoking rates, Ms Jones said.
Mrs Turia, who made the policy announcement to great excitement at the Tobacco-Free Aotearoa Conference, said the Government was also monitoring Australia's proposals to allow only plain packaging on cigarettes.
Up in smoke
* Tobacco displays banned.
* Instant fines for shops who sell to under-18s.