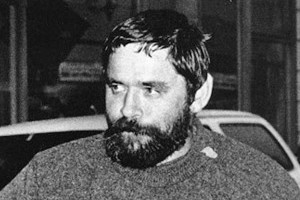 Radio Live host John Tamihere has defended the innocence of his brother, soon-to-be-released convicted double murderer David Tamihere.
He told the audience of his afternoon radio show that a retrial should have been ordered in the case when the body of Swedish backpacker Urban Hoglin was discovered in 1991.
"He's a brother - flesh and blood. You can't resolve on that. You can't walk away.
"He has maintained his innocence all the way through this. I support him as my brother," he said.
The parole board has ordered for Tamihere to be released on November 15 after nearly 21 years behind bars.
He was convicted of murdering Mr Hoglin and fellow backpacker Heidi Paakkonen in 1990.
Mr Hoglin's body was found in the Coromandel by pig hunters in 1991, but Ms Paakkonen was never found.
Tamihere has always maintained his innocence, despite the parole board repeatedly telling him his sentence could be reduced if he admitted guilt and revealed the location of Ms Paakkonen's body.
That assertion is enough for his brother.
"I've got a responsibility, a duty, an obligation to my family.
"There was a lot of counter evidence to the police line."
But he could not explain why he and his other seven brothers had not gone down the same path as David, who was on the run from police for a sexual assault when the tourists were murdered.
"What you won't know is I've got another brother who has spent 18 years in [Auckland Prison at] Paremoremo - he's a prison warden.
"We all got brought up in the same household. We all had the same mum and the same dad and same educational breaks."
He experienced his own share of suffering in the 21-year ordeal, including having job offers pulled, he said.
"I was seen as damaged goods. Not many people have to run the public face for their brother."
Ms Paakkonen's brother Stefan has told the Herald his family still grieves for his sister.
They still wanted David Tamihere to reveal the location of her body, so they could get some closure, he said.
Key witness in the case against Tamihere, Mel Knauf, has echoed that plea.
He was one of the last people to see Ms Paakkonen alive and said the discovery of her body would ease the suffering of many people, himself included.
- additional reporting by Paul Harper