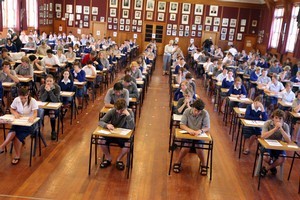 Labour is calling on the Government to delay the introduction of National Standards in schools following a decision by 225 school boards to refuse to work with them.
The boards said yesterday they had no confidence in the standards and would defer setting student achievement targets.
Labour leader Phil Goff said the system the Government was trying to ram into place wouldn't succeed.
"Schools should be required to use the world-leading assessment tools already in place, not be required to use this untested, unclear and confusing system National is trying to impose on them," he said.
"The Government should take time to get it right."
Primary teachers union NZEI said today more boards would join those protesting.
"This action is significant as it is about school boards - made up of parents - standing up and saying they don't believe that National Standards will do anything to enhance their children's learning or raise their achievement," NZEI president Frances Nelson said.
"Principals, teachers and academics have been expressing their concern about the flaws in the standards and their rushed implementation since they were introduced at the beginning of the year."
The standards have been introduced as a way to find out how students are progressing in reading, writing and maths but teacher unions oppose them, saying the benchmarks don't properly reflect student achievement.
The Government has firmly resisted previous calls for their introduction to be delayed and says the standards are essential if parents are to get a clear picture of their children's progress.
Acting Education Minister Tony Ryall said yesterday the protesting boards represented fewer than 10 per cent of schools and had been drawn into a political agenda.
"We have been reasonable, patient and accommodating, and the vast majority of schools are getting on with implementing the standards," he said.
"We can't continue to allow up to one in five children to leave school without the basic reading, writing and maths skills that they need."
- NZPA