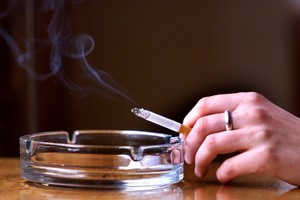 Parliament's Maori affairs committee is demanding a radical tightening of tobacco control laws, including maximum fines of $10,000 for selling the "addictive and hazardous product" to minors.
The report, published today on the parliamentary website, is as hard-hitting as predicted.
The Government will baulk at some of the committee's recommendations, but may adopt others and is already considering, internally, whether to force retailers to put tobacco products out of sight of customers.
The committee's main recommendations to the Government, in addition to banning retail displays, are to:
* Set the goal of making New Zealand smoke-free by 2025,
* Consider a counter-marketing campaign to "de-normalise" tobacco in the public mind,
* Annually reduce the amount of tobacco that can be imported and that each outlet can sell,
* Force loose tobacco and cigarettes to be sold only in plain packaging with health warnings, in line with Australia's plans,
* Increase the maximum fine for selling tobacco products to those under 18 to $10,000, from $2000 now,
* Permit instant fines to be issued to errant retailers, and
* Allow local councils to control the number and location of tobacco retailers.
New Zealand's control policy has previously focused on smokers' tobacco rather than the tobacco industry, the report said.
"By increasing regulations regarding the supply of tobacco, we believe the Government can reduce the death, illness, and harm tobacco causes in New Zealand society."
Banning tobacco displays and covert marketing and requiring plain packaging would help reduce the number of young people enticed to try smoking, the committee said.
"We do not agree that revenue from cigarettes will make or break a small, independent retailer... the cost of banning displays would be borne by retailers and adversely affect the tobacco industry, which would lose a major marketing opportunity."
As for requiring tobacco products to be sold in plain packaging, Australia has announced a similar requirement from 2012.
Up to 85 per cent of tobacco sold in New Zealand was packaged in Australia which would make the change relatively easy, the report said.
The committee commended the passing of legislation earlier this year to increase the excise tax on tobacco products and recommended further incremental tax increases.
"Many academics we heard from told us that lower socio-economic groups are the most price sensitive, and are therefore the most likely to be responsive to price changes."
Prime Minister John Key said yesterday it would be extremely difficult to make New Zealand smokefree by 2025.
He said the Government acknowledged the harm caused by smoking which was why it had increased tax on tobacco products.
The anti-smoking lobby group Action on Smoking and Health (ASH) said it was delighted with the select committee's recommendations.
Association of Community Retailers (ACR) spokesman Richard Green said a ban on tobacco displays in retail outlets would increase security risks in small shops and impose costs on them.
Retailers also said the Government's price rise of tobacco products in April this year led to increased violent robberies of small dairies and convenience stores.
"Limiting supply will only open up our country to a huge black market and organised crime," Mr Green said.
The ACR has denied accusations from media commentators that it is funded by the tobacco industry.
The New Zealand Medical Association has endorsed the select committee's recommendations, in particular banning all point-of-sale displays of cigarettes and imposing stricter penalties on retailers who sell tobacco to minors.
"There is widespread research which has shown that children and adolescents, who frequently visit stores with tobacco displays, are more likely to start smoking. Studies have also found that a high proportion of smokers who try to quit experience an urge to purchase cigarettes. Banning retail displays would have a very positive impact on reducing smoking rates for young people and the overall population," said NZMA chairman Dr Peter Foley.
The NZMA also supports the proposal to halve smoking by 2015 with the goal of making the country smoke-free by 2025.
"It's an ambitious target but one that we cannot, and should not, back away from. The statistics in relation to the negative effect smoking has on public health are very sobering and the policies we need to put in place must be bold and hard hitting," Dr Foley said.
The New Zealand Association of Convenience Stores supports increasing penalties for selling tobacco to minors, but is wary some of the recommendations could "force significant costs on to retailers".
"Forcing retailers to cough up thousands of dollars to hide tobacco away from their customers will do little aside from placing greater risks on retailers who will be forced to constantly hunt for a product that makes up to 40 per cent of their sales," NZACS chairman Roger Bull said.
"NZACS has said all along that a relatively simple solution was available - that of greater enforcement of existing tobacco regulations.
"If there was greater enforcement, backed by retailer education of the existing laws, then tobacco products can be kept out of the hands of young people."

- With NZPA