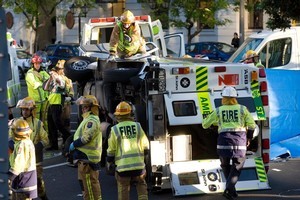 An ambulance answering an emergency call and another vehicle collided in downtown Auckland last night, causing a rush-hour traffic snarl-up.
The ambulance - travelling with its lights and sirens on - and a black Audi car collided at the intersection of Lower Albert St and Customs St West.
The ambulance was thrown into the air by the impact and rolled a few times before coming to a stop on its side in the middle of the road.
Northern ambulance communication staff said one ambulance officer - the driver - was taken to Auckland City Hospital with moderate injuries.
One other officer was also in the ambulance. It was on its way to help a woman who had collapsed, and was not carrying a patient.
Another ambulance was called to attend to the collapsed woman.
Herald business reporter Kelly Gregor saw the crash.
She said the ambulance - which was travelling north on Albert St towards the waterfront - was entering the intersection when it was hit in the middle of the road.
"I saw this car smash into the ambulance and [the ambulance] flew in the air before dropping back down."
The crash caused delays for commuters although police said they were not serious.
Said Kelly Gregor: "Traffic was quite backed up ... definitely lower Albert St [cars] were finding it hard to get through especially when the fire trucks and police vans came."
Another witness, Isobel Marriner, said the ambulance stopped at the intersection.
A young man in the passenger seat of the ambulance was looking at traffic to the right and as soon as it was clear, the ambulance started moving slowly across the intersection - "Very, very slowly, they were crawling."
They got past the barrier on Fanshawe St, and were in collision with the Audi, which came from the left.
The ambulance went up into the air, and then flipped on to the road on its side.
The police blocked off a nearby intersection while a scene examination was completed.
Another ambulance arrived soon after the accident, while police ushered crowds of people away from the area.
Albert St remained closed along two city blocks late last night, as police continued work at the scene.