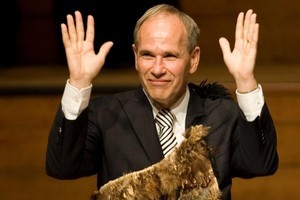 I'm all for a bit of ceremony, but 3 hours to officially open the inaugural meeting of the Auckland Council? That's time enough to crown the Queen of England, inaugurate an American President and bury an unknown warrior. Where was the timekeeper with a hooter when you needed him?
City organist John Wells would have been the perfect candidate, seated as he was, splendiferous in his academic cape and gown, at his grunty new sound blaster. Still, boys with new toys and all that. There was no stopping him either. Was it his tongue-in-cheek decision to see councillors out of the hall to that popular wedding march, Widor's infamous Toccata.
Mayor Len Brown had insisted he didn't want anything "dirgy", so Dr Wells obliged, serenading guests into the hall with a potpourri of cheery tunes, everything from the Monty Python theme tune to the entry of the Queen of Sheba. Then came the powhiri.
Any hopes that the Maori elders, having presided over a dawn blessing many hours before, might have been eager for any early night were quickly dashed. They must have had a siesta. They did have a signer for the deaf in the audience, but one sentence of English screened overhead for each 10-minute burst of te reo was rather basic. Still, later on we were all in the same boat, when the Graduate Choir entertained us to a German song by Brahms.
There were many such "only in multicultural Auckland" moments. Such as when Mayor Brown and his deputy, Penny Hulse, both resplendent in feather cloaks, were shown to their places on the stage by the Maori "protocol officer".
The mayor was shown to the prime spot in the front row, but Penny Hulse, being a female, was firmly shown - was that a moment of protest from her? - into the row behind, with the other womenfolk.
There was much talk from everyone from Prime Minister John Key down of how unifying the new one-council reorganisation would be in bringing Auckland's diverse communities together.
The choir - at least a third of whom were of Maori or Pacific Island descent, and switching from a Samoan village song to an English coronation anthem - showed that process is already well under way.
The mayor, a legendary vocalist, couldn't resist bursting forth with a waiata about, he said, love trust and honour.
Before he opened his mouth, the choir, most of the councillors and the audience were on their feet joining in harmony. If he can only keep everyone singing his tune in the months to come, he's made.
It wasn't all touchy feely by any means. In a strong speech, he stuck to his commitment to public transport, particularly rail to the airport and North Shore.
Wisely, he backed away from the "100 key projects in 100 days" pledge made in the immediate post-election euphoria. Indeed he's down to one, and that's getting designations in place for airport rail.
Could I suggest just one more: to buy an official egg-timer. The thought of council meetings dragging on this long is a worry.