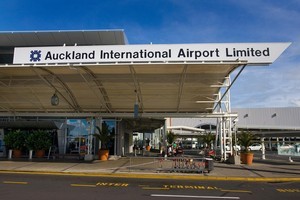 Traffic on a key route to Auckland Airport will face months of disruption from next week while a road bridge over the main trunk railway through Papatoetoe is rebuilt.
KiwiRail disclosed yesterday that it would have to close Bridge St, which connects two ends of Puhinui Rd, from Monday until late January while it installs a new structure with enough clearance for overhead supply lines for new electric trains.
The rail operator had hoped to take only three weeks from Boxing Day to replace the existing bridge, but now says difficult ground conditions have extended the duration of piling operations in Bridge St, which has already been reduced to one traffic lane at off-peak times.
That earlier timetable would have fitted better with the Transport Agency's schedule for completing an upgrade of its Puhinui motorway interchange by Christmas, after which westbound traffic will have an easier run to the airport.
The setback means traffic to the airport from Manukau and eastern suburbs such as Botany will have to detour via an extension of Cavendish Drive and a new link called Noel Burnside Rd to loop past the bridge before emerging at the western end of Puhinui Rd.
KiwiRail said it is working on traffic management measures with the Transport Agency and the new Auckland Council, which is installing traffic signals at the intersection of Noel Burnside and Puhinui Rds to cope with heavier traffic.
The detour is already being used by traffic from Roscommon Rd, which has been cut off from a direct route to the airport by the construction of a new ramp for the Puhinui motorway interchange.
An alternative is for traffic to use the newly extended Southwestern Motorway to reach the airport via George Bolt Memorial Drive, adding several kilometres to trips.
KiwiRail's Auckland electrification project director, Murray Hood, said the bridge replacement project could not be delayed until after the interchange was completed, as his team was working to tight deadlines to prepare the rail network for the arrival of new electric trains in 2013.
The closure until December 10 of a traffic lane on a bridge over the railway in central Papatoetoe's busy St George St is also expected to keep causing delays.
St George St will also close for three weeks from Boxing Day for its railway bridge to be replaced.
Meanwhile, a faulty weld has postponed for two weeks a full closure of the Northern Motorway through St Marys Bay in central Auckland which was to have taken place last night for the installation of a large sign-carrying gantry.