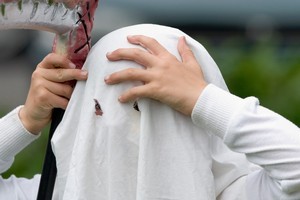 Children trick or treating in South Auckland - some younger than 10 - took the "scary" side of Halloween too far last night by threatening people who did not give them sweets.
Police dealt with more than half a dozen cases of children swearing, intimidating and being aggressive towards people who refused to give them lollies.
Inspector Lou Alofa said police patrols were increased to keep a watch for children misbehaving.
About half a dozen people in South Auckland had complained to police over a "torrent of abuse and threatening language".
Some of the children were under 10 and others were in their early teens.
Last night there were no reports of children acting on their threats, but he said some people were concerned.
Most of the threats had been "just a lot of swearing", but some children had told people they would hurt them unless they gave sweets.
"There have been instances where occupants of addresses ringing in say that if these children do come back to their addresses after being very intimidating, then they will take the law into their own hands."
Patrol cars were sent to the houses the complaints came from, but by the time they got there the children had already gone.
Police have had similar problems in previous years on Halloween, but there have been no injuries.
"We do though fear the day that it will eventuate to something like that."
One Herne Bay resident told the Herald the inner-city area also had problems with terrifying trick-or-treaters, with up to 150 flocking to the suburb for Halloween. "There are even some shipped in from Glen Innes for the better pickings."
Mr Alofa said police had not received any reports of people being "shipped in".
The majority of trick-or-treaters behaved themselves.
A group of teenagers in Parnell said they had never tricked anyone who did not give them sweets.
Bella Silva, 14, admitted she had thrown an egg at other trick-or-treaters who squirted her with a water gun.
Parents took costumed children around suburbs throughout Auckland trick-or-treating.
Remuera mother Jo Gander said they mostly went to houses where they knew the occupants.
Parnell mother Michelle Carlson said her children had not done as well this year, which she put down to Halloween falling on a Sunday.
Tell us about your Halloween experience. Email newsdesk@nzherald.co.nz