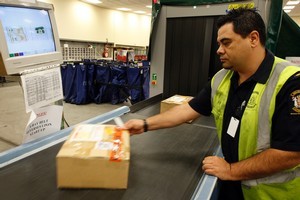 New Zealand Customs has modified rules surrounding packages coming into the country after the discovery of explosives found in parcels being posted from Yemen to Jewish sites in the United States.
Customs has increased the risk assessment on all parcels, particularly those from the Middle East, said group manager of Trade and Marine Paul Campbell yesterday.
"All cargo that's ended up through the Customs cargo management system is run against our intelligence risk tools and what we have done is updated the risk assessment based on the events over the past 24 hours. That's not just ... cargo out of the Middle East, but all cargo [in case it has been rerouted through another country]."
Customs would also pay particular attention to air and sea cargo from the Middle East, he said.
Yemeni forces yesterday arrested a woman believed to be involved in sending the packages.
Officials said the woman, a medical student at Sanaa University believed to be in her 20s, was traced through a telephone number she left with a cargo company.