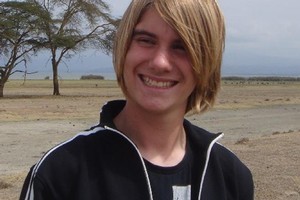 Groundbreaking cellphone technology has been launched in a bid to stop teenagers being harassed by text bullies.
The new service which allows cellphone users to blacklist up to 20 numbers has been welcomed by a woman whose teenage son took his own life last year after receiving what she says were bullying texts.
Schools throughout the country will also be involved from next year with Vodafone, the company introducing the technology, to help educate students how to protect themselves against unwanted messages.
The Vodafone Blacklist service will be available to the company's 2.5 million customers in eight days.
A second phase of increased controls for parents will be introduced next year.
The company hopes the free service will give customers the power to control who they receive TXT/PXT from.
It allows the receiver of unwanted texts to block them, but the sender doesn't know this is happening.
Vodafone gets 6000 calls a year about text bullying.
Waihi Beach woman Heather Powell, whose son Michael, 15, took his own life last year, was at the launch in Auckland this week.
She believes Michael killed himself in April last year after misinterpreting a series of texts from two girls, aged 13 and 14, who indicated they were involved in a suicide pact.
One girl had created a "graphic fantasy" that the other girl was dead and they were also on their way.
Michael, a Katikati College student, took his life in a toilet block after receiving the texts.
Coroner Peter Ryan found "distressing and disturbing" late-night texts had been a "significant factor" in the lead-up to Michael's suicide.
But he stopped short of calling the case "cyber-bullying", something the Powell family has asked Chief Coroner Neil MacLean and Minister of Justice, Simon Power, to review.
And in another widely reported case, a 15-year-old Rotorua teenager took her own life after receiving bullying texts from the wife of 27-year-old Pelesasa Tiumalu who she met working at McDonald's.
The girl began sending Tiumalu suicidal texts, which were intercepted by his wife, Elina, who replied: "Go kill yourself, I don't care."
Twelve hours after the dying teen was rushed to hospital, her father had to turn off her life support.
Tiumalu was jailed for four years and three months for having sex with a minor (the 15-year-old) and his wife, Elina, was earlier given a nine-month suspended sentence for intimidation and threatening to kill.
Powell said she was rapt a company such as Vodafone had introduced the technology because text bullying was a big problem.
Vodafone had kept in contact with her over the past year about the new technology.
"The concept is wonderful. It's about people working together and it's meaningful. And it's well overdue," said Powell.
Also with her at the launch was her fourth and youngest child, Chris, 13.
He won't get a cellphone until he is older, she said.
Michael had his first cellphone at 13.
Powell said parents should consider when their children were mature enough to have a cellphone.
She said the use of children's mobiles should be monitored. Parents should also not let their kids go to bed with a cellphone where they could receive unmonitored and nightmarish texts when tired and emotional.
Powell has been approached by police about helping spread awareness about what effect misusing cellphones can have on young people. The family is also selling greeting cards, displaying Michael's artworks, to raise money to build awareness.
"The worst scenario has happened to us. We have a dead child and it can't get much worse than that," she said.
"The numbness has worn off, but the incredible deep sadness and the absolute loss just doesn't go away. It comes in waves. The death was so acute. It's so hard to gain normality again - individually and as a family."
Vodafone has been working with Parents Inc - a service that helps Kiwi parents build confidence through seminars and access to experts - to develop a programme in high schools on how to be safe around technology.
It will be presented through the Attitude programme and is called Connected.
Connected will go to 89 per cent of high schools from early 2011 and will canvass how to build healthy relationships using technology and what information to avoid downloading.
It will also tell students how to deal with phone and cyber bullying.
How to have text bullies blacklisted
To stop text bullies all you need to do is text "Blacklist add" with the offending number to 713 on your Vodafone mobile.
This will ban TXT/PXTs - the most common form of communication between youngsters - coming through to the person who doesn't want to receive them.
The text bully doesn't know their messages aren't getting through and they are still charged for them.
Up to 20 numbers can be banned through a single mobile at a time and any number can be reversed from the blacklist at any time by texting "Blacklist remove" with the number. The texts are cut off immediately. However, the service cannot block phone calls.
Vodafone's general manager of consumer marketing, Kursten Shalfoon, said the blacklist service was the first phase in a plan to give customers more control over who could contact them.