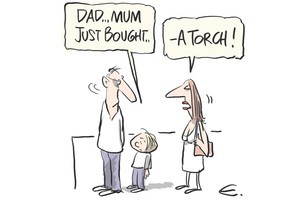 Organisers of this weekend's ASG Parent and Child Show have asked an exhibitor to tone down a display of sex toys among the usual fare of pushchairs, carseats and cots.
Some other stallholders have complained about the exhibit by adult store D.vice, which featured a range of sex toys in a glass cabinet at the show at the ASB Showgrounds in Greenlane.
One mother said she was taking her 3-year-old daughter "and I don't want her seeing those things and asking questions".
The woman, who asked not to be identified, said she was pregnant with her second child and had been to the annual show several times before.
"But I've never seen a stall like this and it's pretty inappropriate."
D.vice director Wendy Lee said the show was more "female focused".
"We've had a lot of people say, 'It is great to see you here'," she said.
A few people had been surprised and some had asked why they were there.
"[But] most people here have had babies as a result of sex."
There had been a lot of interest in the company's smart ball, which can be used to strengthen the pelvic floor muscles after pregnancy.
"We are reminding people that after having babies, there is still hope," Ms Lee said.
Show organiser Dona White said none of the exhibition visitors had complained, but she had had discussions with D.vice staff and they had agreed to change some of their signs today.
She said the emphasis of the stand would be the smart ball product.
On its official website, the Parent and Child Show is billed as helping "families to see what's available in the market to enhance, inspire and support the early stages of parenthood".
The show is in its 17th year, after beginning in the front room of Ms White's home. As many as 14,000 visitors are expected to see more than 200 exhibitions.
The closest neighbour to D.vice at the show is photographer Kara Woskett. Asked about her neighbour, Woskett said there had been a "couple of jokes" and many people had laughed when they saw the stall and what it was selling.
"It's quite funny. Some people are like, 'What'?"
Candy seller Darren Marshall Spanish said he was not bothered.
- staff reporter