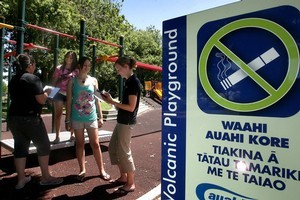 The new Auckland Council will be asked to consider declaring all its parks and playgrounds smoke-free - building on the work of its predecessors in much of the region.
The Auckland Regional Council in August adopted a smoke-free policy for its regional parks, which cover more than 40,000ha and include land in the Waitakere and Hunua ranges and the Mahurangi and Ambury parks.
Although the policy is not a ban on smoking, the intention, enshrined in the revised Regional Parks Management Plan, is to gradually change brochures and signs to encourage people not to smoke in regional parks.
In a related move, the Manukau and Waitakere City Councils have erected signs in their sports fields and playgrounds, asking people not to smoke.
They are among more than 20 councils nationally that actively discourage smoking in parks.
Auckland Zoo and many other open-air facilities have adopted smoking bans - in addition to the statutory ban on smoking indoors at workplaces and anywhere at schools.
Auckland's regional mayor-elect, Len Brown, said that if the idea of extending smoke-free status to all of the remaining parks in the region was raised at the new council, he would look at it.
When Manukau introduced its policy last year, he spoke strongly in favour of it as the city's mayor.
"Parks are places for children to be active, play sport and keep fit and healthy," he said.
"It's not appropriate they should also be places where children are exposed to people smoking."
Auckland Council member Sandra Coney, also the Auckland Regional Council's chairwoman of regional parks, said yesterday that she intended to start work on extending smoke-free parks within her first year with the Super City.
Ms Coney, who has also been elected to the Waitemata District Health Board, said the council would have to work with local boards on the matter, because they had oversight of local parks.
"It wouldn't be something to rush into. It's not a matter of being heavy-handed about it; it's really about encouraging people not to smoke and it's about social and peer pressure," she said.
The regional parks management plan says one of the aims of the smoke-free policy is the "denormalising" of smoking for young people - in effect to discourage the role-modelling of smoking.
The ARC extended the smoke-free area at Mt Smart Stadium to cover all the grounds, as well as the stands.
Councils are legally required to promote and protect public health.
Ms Coney said the ARC's adoption of the smoke-free regional parks policy was not contentious, and it seemed to be working well in the Manukau and Waitakere councils' parks and playgrounds.
There was a lot of debate about extending the smoke-free area at Mt Smart, she said, but surveys were conducted and even smokers said they preferred to be in a smoke-free environment.
Cancer Society Auckland chief executive John Loof said he had written to Mr Brown offering support to extend smoke-free policies throughout the region.