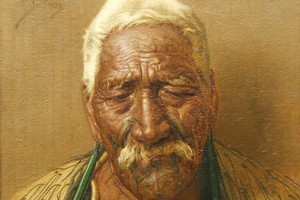 Opera diva Kiri Te Kanawa is selling off one of the finest examples of the work of renowned artist Charles Frederick Goldie.
The oil on canvas, Forty Winks, is the keynote piece in an auction of important, early and rare works at the International Art Centre on Auckland next month and could fetch up to $500,000, a record for a Goldie.
Centre director Richard Thomson said the work was the finest Goldie painting to go on the market for years and had an impeccable provenance.
Goldie painted Forty Winks in 1939, four years after he was sponsored by the Governor General Lord Bledisloe to send three paintings to the Royal Academy, London.
Mr Thomson said the works met with acclaim and Goldie received King George V's Silver Jubilee Medal and OBE. The same year he exhibited at the Paris Salon and won the Prix Julian Medal. In 1937 two Maori portraits were accepted by the Paris Salon.
Dame Kiri was reassessing her collection and the painting was expected to bring in a new record for an auction sale of a Goldie work, Mr Thomson said. "It is magnificent and one of the best ones to come on the market for some time."
It was the only known work by Goldie of Rutene Te Uamairangi, a Kingite Warrior of Taupo.
The full frontal portrait of the resting warrior shows intricate details of his moko, his hand woven cloak and his pounamu tiki.
Goldie, who died at his Remuera home in Auckland in 1947, was New Zealand's best known artist.
He was educated at Auckland Grammar and after he did two still life paintings, Governor General Sir George Grey encouraged him to attend the prestigious Academie Julian in Paris where he gained a strong grounding in traditional technique.
He returned to New Zealand in 1898 and established his studio in Shortland Street, Auckland.
He spoke Maori and believing old Maori chiefs and warriors were members of a vanishing race, he devoted his life to painting their portraits.
- NZPA