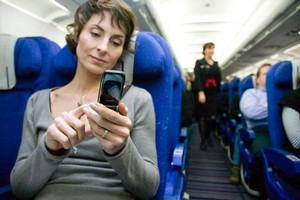 Air New Zealand is trying to trace a passenger seen talking on his cellphone during a domestic flight, who allegedly claimed he had been given permission.
The airline says permission was never given. Transmitting on a mobile phone in flight is an offence under the Civil Aviation Act, carrying a fine of up to $2500.
A passenger on the flight between Christchurch and Hamilton on Wednesday told the Herald others on board were shocked to see a man talking on his mobile phone "for all to hear".
He said that when the man was confronted, he pointed to a flight attendant at the rear of the plane and said "she told me I could".
An Air New Zealand spokeswoman said: "The flight attendant did not see any passenger using their mobile phone, and certainly did not authorise it. She was not told about the incident until after the flight had landed and passengers were leaving the aircraft.
"The captain was informed and attempted to locate the passenger in question, but he'd already left the airport.
Air New Zealand is endeavouring to trace the passenger via their booking information."
Air New Zealand's policy is that neither texting nor voice calls are permitted in flight.
Passengers with "flight mode" on their phones can switch to this mode before take-off, but must still switch the phone off completely for take-off and landing.
The argument for banning cellphone use during flights is that the signal can interfere with the aircraft's complex instruments.
Aviation commentator Peter Clark said studies had shown some effect on instruments but there was nothing "100 per cent conclusive". The simple solution had been banning cellphones altogether, he said.
But airlines were introducing aircraft equipped with their own cellphone receivers, so the signals weren't transmitted to ground receivers and were of less strength.
Mr Clark said these onboard receivers were being limited to tasks like sending texts, rather than allowing voice calls on flights.