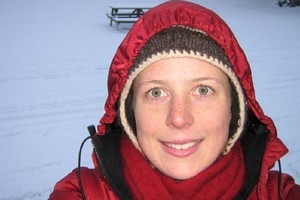 The man who tried desperately for 90 minutes to save his girlfriend's life after she was mistaken for a deer and shot dead will today speak at her funeral.
Lower Hutt teacher Rose Ives' funeral is to be held at a private location near Nelson where hundreds of people are expected to gather to remember her life.
The 25-year-old was shot dead while brushing her teeth by Hamilton man Andrew Mears, who was allegedly spotlighting and mistakenly thought she was a deer at a Department of Conservation camp, south of Turangi, on Friday.
Miss Ives' boyfriend Adam Hyndman performed CPR on her to try to save her life.
Her father, Malcolm Ives, said Mr Hyndman, as well as family members, friends and school colleagues, would speak at the funeral.
"It will be solely a celebration of Rose's brief life. We just want it to be as joyful as it can be," said Mr Ives.
Mr Mears, 25, who has been charged with careless use of a firearm, was not at home when reporters visited yesterday.
Calls to his family were referred to Hamilton lawyer Roger Laybourn.
The Waikato Times said yesterday that the Mears family were "devastated" and hoped to meet Miss Ives' family to convey their sympathy.
But Mr Laybourn said any meeting between the families would be "a long way down the track" and they had yet to convey any request for a discussion.
"We are not doing anything like that yet. We will respect their right to have a funeral and to recover," he said.
"There are proper channels to do that through the courts and through the police and that's how we will do that."
It is understood that Mr Mears is distraught and has taken time off his work as an car upholsterer.
Meanwhile, Conservation Minister Kate Wilkinson said the killing was one of three illegal spotlighting incidents on public land over Labour Weekend.
She said a DoC staff member was camping at Butchers Flat in the Marlborough Sounds when a vehicle drove by firing off rounds.
"It is only by pure luck a second family isn't grieving today," she said.
DoC staff in Wairarapa also fielded complaints of spotlighting within 50m of a hut, said Ms Wilkinson.
"The hut was full of trampers who were quite rightly fearful of the shots being fired very close to them."